| | |
| --- | --- |
| Sanjay Leela Bhansali and Farah Khan. | |
| | |
| | |
| | |
| | |
| | |
| | |
Advertisement
November 06, 2007 12:23 IST


There is doubled excitement in the air this Diwali with Om Shanti Om and Saawariya hitting the marquee.

While OSO's producer Shah Rukh Khan is going all out to promote the 70s inspired reincarnation drama, Sony Pictures Entertainment is leaving no stone unturned to ensure its first outing in Hindi films is a memorable affair.

Whose endorsements are better? Whose stars make more appearances as guests of talent-based shows? Whose abs will the audiences like better -- Ranbir's or SRK's [Images]? The rivalry between these two to corner the box office has scaled unprecedented heights. Who will win this tug of war? November 9 holds all the answers.

Despite their differing movie-making styles and current antagonism, directors Sanjay Leela Bhansali [Images] and Farah Khan [Images] have a lot in common.

For starters, both have seen tough times quite early in their childhood. Failure marred Farah's father Kamran Khan's chances of making it big as a filmmaker, and the family fell on trying times. SLB's father Navin, too, met with a similar fate in the tricky world of showbiz and took to alcohol, resulting in traumatic childhood memories for the Black director. Fed on movies and dreams of directing one someday, the duo worked really hard to make up for their humble beginnings.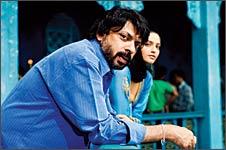 Bhansali and Farah went on to assist filmmakers Vidhu Vinod Chopra and Mansoor Khan on Parinda and Jo Jeeta Wohi Sikander respectively. Interestingly, Farah's career took an unintentional turn as a choreographer on the sets of JJWS, whereas Bhansali (a trained dancer) was appointed as the director of a song on Chopra's bleak story about two brothers and the mafia.

A Film and Television Institute of India graduate, Bhansali made quite an impact with his emotionally-charged directorial debut, Khamoshi: The Musical, extracting tour de force performances out of Nana Patekar, Manisha Koirala [Images] and Salman Khan [Images]. Despite rave reviews, Khamoshi wasn't a success, but it paved the beginning of a close friendship between the director and Salman Khan.

The duo collaborated again for the multi-hued love triangle, Hum Dil De Chuke Sanam, along with Ajay Devgan [Images] and Aishwarya Rai [Images]. The drama was a major hit and won Filmfare trophies for Best Film and Director. His opulent take on Sarat Chandra Chattopadhyay's novel, Devdas, with stars like Shah Rukh Khan [Images], Madhuri Dixit [Images] and Aishwarya in the lead proved to be another feather in his cap. The tragic fare enjoyed an out-of-competition viewing at the Cannes [Images] Film Festival. More acclaim and awards followed for Bhansali with Amitabh Bachchan [Images] and Rani Mukerji's [Images] inspiring turns in the Black.

Farah meanwhile won accolades for her dance directing skills with songs like Dhol bajne laga (Virasat), Chaiyyan Chaiyyan (Dil Se..) and Idhar chala (Koi... Mil Gaya). Her work in Mira Nair's Monsoon Wedding and Vanity Fair and the Broadway musical, Bombay Dreams, gave her international exposure. The latter also earned her a nomination, along with Anthony Van Laast, at the prestigious Tony Awards in 2004.
Finally, her original dream of making films became a reality when buddy SRK decided to produce and star in her debut, Main Hoon Na. Not only did Farah successfully introduce the audience to a 'spoof', but she also went on to become the first ever lady director to be nominated for a Filmfare award in the Best Director category.

Besides their rags-to-riches stories, Farah and SLB share a common enthusiasm for cinema, and a penchant for straight talk. Even so, their approach, style and vision when it comes to filmmaking is as diverse as day and night. If their filmmaking styles have anything in common, it is a penchant for opulence, for the larger than life canvas.
Yet, while Farah celebrates life and its bizarre twists and turns, Bhansali loves to pay picture-perfect, poetic tributes to the reality of pain.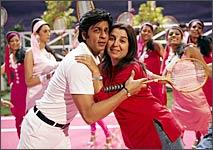 Although it would be unfair to compare their calibre as movie-makers, Om Shanti Om is Farah's second film as opposed to Saawariya [Images], which is Bhansali's fifth magnum opus. Although both directors launch newcomers, model turned actress Deepika Padukone (OSO) already exudes the aura and confidence of a major league player.
Rishi and Neetu Kapoor's son Ranbir and Anil Kapoor's [Images] daughter Sonam, who debut in Saawariya, lack Padukone's charisma and established appeal, but on the plus side, both have acting in their blood.
The two directors have been coming together in public, and sniping at each other in private, with a fair degree of regularity. Just last year, Bhansali and Farah shared a platform as judges, along with Shilpa Shetty [Images], of the celebrity dance talent competition Jhalak Dikhla Jaa. The two appeared to share considerable camaraderie, exchanging jokes and pulling one another's leg. But with their films releasing on the same day, the equation seems to have changed dramatically.

Bhansali angered the fiery Farah by maintaining a cold 'no comments' stance to OSO, its heroine and her direction skills. The soon-to-be-mom to triplets retaliated by making cheeky remarks like 'Ma Shanti Ma' (in response to what her film's title would be if Bhansali would have directed it) and 'Lili, don't be silly!', on good buddy Karan Johar's [Images] chat show. 

A sensitive Bhansali, who uses his mom's name 'Leela' as his middle name, reacted furiously to her comments and the cold war gathered heat. Thus far, this war has played out in the media, and on chat shows -- later this week, it will shift to the marquee, where their respective films will war for the lion's share of the festive weekend box office. A lot of money, pride and careers are at stake.
 
The ideal scenario, for both film makers and indeed for Bollywood, is that the Diwali weekend produces two winners.