Home > Movies > Report

Saawariya kicks off ticket sales while OSO is yet to start

Syed Firdaus Ashraf | November 05, 2007 13:55 IST
Last Updated: November 05, 2007 13:56 IST


| | |
| --- | --- |
| A still from Saawariya. | |
| | |
| | |
| | |
| | |
| | |
| | |
There may be some bad news for Shah Rukh Khan's [Images] diehard fans for Diwali.
Sanjay Leela Bhansali's [Images] Saawariya, the other major film sharing the same release date as Shah Rukh's Om Shanti Om, is seeing brisk ticket sales in cinemas.
In the case of Om Shanti Om, distributors are still negotiating the film's release in multiplexes and bookings are yet to open.
"The bookings for Saawariya [Images] are good," says Vishal Anand, Vice President (Marketing), Fun Republic multiplex. 
At present Om Shanti Om is releasing in single screen theatres only, and except for Inox [Get Quote], all the other multiplexes have decided not to budge on the demand of Eros (OSO's distributors) demand for more moolah.
"We are having meetings with the distributors of Om Shanti Om but nothing has been finalised yet," he adds. 
The exhibitors allege that Eros is asking for greater profit share on tickets, which is not the normal course of business.
The reason multiplexes are sticking to their stand is also because of two films -- Jab We Met [Images] and Bhool Bhulaiyaa  -- which are doing well at the box office.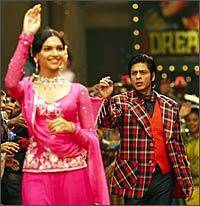 "They are doing good business for us, so why should we budge for the unreasonable demand of Om Shanti Om?" says another multiplex owner who wished to remain anonymous.
Losing business in multiplexes means huge losses for the distributors as this is where big money is made compared to single screen theatres.
And while newspapers on Monday carried advertisements of 'Plans Fast Filling' for Om Shanti Om, nowhere was it mentioned that the film would be released in multiplexes.
And this could well spell doom for OSO. Trade analysts feel that Saawariya will try to corner as many shows in the first week itself if there is a delay from Eros in releasing the film. So far, nobody from Eros has spoken on the issue.
And if that was not enough, more trouble is heading OSO's way -- this time from the south, which as usual is gearing up for its own Diwali releases.
Ironically, Shah Rukh Khan on Sunday told a newspaper that 'it is my duty to destroy them (Saawariya)'.
We'll just have to wait and see if that remains an empty threat.