Home > Movies > Report

Preity, Dharmendra in Shillong

Lambok Nongspung | November 01, 2007 14:06 IST



After a deluge of rockers, Shillong has become the setting for a Bollywood film starring the evergreen Dharmendra [Images], Shiney Ahuja [Images] and Preity Zinta [Images].

The trio was in the city to shoot for Jahnu Barua's (of Maine Gandhi Ko Nahin Mara) movie Har Pal.

Preity plays a local girl in this movie produced by Nav Jeevan Films. She refused to divulge more about her role.

But she did speak about the experience of shooting in the beautiful locations of the Meghalaya capital and its matrilineal system.

Also read: Amit Paul, 'Mr Big' rock Shillong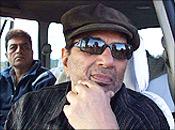 "It is really impressive to see that women are being respected here," Preity said. "Their position here can be termed as the best."

She was taken in by the landscape of the 'Scotland of the East' and wondered why Bollywood films were not shot here regularly instead of Kashmir or Himachal Pradesh.
For yesteryear he-man Dharmendra, it was Shillong's serene atmosphere that appealed.
The actor -- who took up the role after Amitabh Bachchan [Images] backed out due to date problems -- hoped the film would help in promoting the city as a tourist destination and a permanent location for shooting films.