Advertisement
November 01, 2007 15:20 IST


As Shekhar Kapur's [Images] Elizabeth: The Golden Age rolls out in theatres worldwide Friday, here's a bit of news for those who have been following the director from his Mr India days. He drew parallels for Elizabeth, his first film on the British monarch, with former prime minister Indira Gandhi [Images], and for Golden Age with Princess Diana.

The director revealed this in an interview to Stephen Moss of the British daily The Guardian.  

Also read: Shekhar Kapur, toast of Toronto

In the freewheeling and insightful interview -- in which he credited his Bandit Queen to be the reason the Elizabeth producers chose him -- Kapur also drew parallels between him making films on the venerated British queen and Richard Attenborough [Images] deconstructing the Father of the Nation.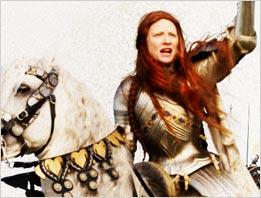 'I couldn't have made a film about Gandhi,' Kapur told The Guardian. 'I couldn't have carried the burden of that story. It's too much part of my psyche. Maybe it would have been the same for some British directors making a film about Elizabeth.'
Kapur's new movie has garnered lukewarm reviews, with Time Out London [Images], for example, declaring that it makes 'soap out of statecraft.'
The director did not rule out a third picture in his portrayal of Queen Elizabeth, but he told The Guardian that his next project would be called Water. 'The story is set in 2025 in a city of about 20 million people that has practically run out of water,' he said. 'Whatever water that exists belongs to the 10 to 15 per cent of very rich people, and they discover that if there is a shortage of water it's a very powerful position to be in, so water is used as a weapon of economic, social and political power.'
The movie will be shot in India, but will be in English.