Bappi Lahiri
Photograph: Pradeep Bandekar

Advertisement
May 31, 2007


Singer and music composer Bappi Lahiri is a busy man these days. Besides shooting for the television reality show, SaReGaMaPa Challenge 2007 Pratham Viswayudh, the singer also has an upcoming international project with the Jackson 5 (Michael Jackson's first band, featuring his family).

"Jackson 5 has finalised the deal and signed a contract with me. Randy and Jermaine Jackson will be coming down to Mumbai in July," said the composer, who also sung for Amitabh Bachchan [Images] in the upcoming film Boothnath.

Rajul Hegde gets Bappida to recount his musical journey through the years and being a judge on SaReGaMaPa.

You were on the jury last year as well, for SaRaGaMaPa Lil Champs. How was the expereince?

The first time I judged a show, it was for Channel V's Mobile Singer contest for playback singers, which was held just before Lil Champs. This year, I am the mentor for SaReGaMaPa Challanege.

It's nice to see great musicians (Himesh Reshammiya, Gulam Ali, Asha Bhosle) sitting together as judges. This is the first musical world cup. I am really happy to be a part of this show.

This year you are a mentor as well as judge. Is it a difficult job?

Mentoring is an interesting job. It's not diffcult for me as I have 35 years of experience in this field. I have introduced singers like Alisha Chinoy, Sharon Prabhakar, Babul Supriyo and Hema Sardesai. Reality shows like SaReGaMaPa are a huge platform for young talent. Thanks to television, they have more exposure than we could even imagine.

This year for the show, I've had auditions in New York, UK, Canada, Africa, Pakistan and North India. I have selected students like Mauli Dave from New York, Harpreet Deol from Ludhiana, Sumedha from Chattisgarh, Reecha Tripathi from Canada, Sikander Ali from Paksitan and Sunil Kumar from Sundernagar. The participants from my gharana are very talented. All of them are good singers.

We heard that you invited Mauli Dave for dinner at your place?

I auditoned Mauli in New York. I discovered that she is a good singer and now, she has become popular among the public. Whether she wins this contest or not, she is a good signer. I invite all my students home.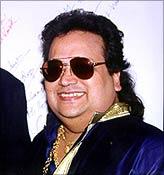 What advice do you give your participants/students?
I tell them to work hard.
How do you train your students?
I see to it that they choose the right kind of songs and sing with proper sur (melody). I try to polish their voices, give them tips and make them sing properly. I guide them and spend as much time as I can with them.
How difficult is it to eliminate the participants?
It is a difficult job because we get emotionally attached and sometimes, it is embarrassing for us. At the end of the day, it is a competition and winning and losing is part of the show, so you should accept it.You have to choose the best.
What are the points you keep in mind when you judge a show?
I can just hear the participants singing and tell who will be eliminated in that particular show. And I'm usually right.
You disappeared from the industry in the 1995 and came back in 1998, and again in 2005 for the film Maine Gandhi Ko Nahin Maara.
The period between 1980 and 1995 was my era. I had the opportunity to sing for different superstars from Shashi Kapoor, Shammi Kapoor and Amitabh Bachchan. I even sang for Govinda and Abhishek Bachchan [Images]. Where did I disappear? I was very much in the industry. But I was taking less work.
Any career mistakes? Any regrets?
In 2002, Dr Dre (US rapper) copied the song, Thoda Resham Lagta Hai -- sung by Lata Mangeshkar -- in his album Addictive, without my permission. So I sued him. I was doing international projects for two years. Once I finished the case, I came back to India. No regrets at all.
How much has changed since the last time you were making music in Bollywood?
It is the same, nothing has changed for me. The kind of songs and music which was there 25 years ago, have come back.
Your best songs so far?
I like Intaha ho gayi ithazar ki from Sharaabi and Chalte Chalte. I like them because they are immortal.
Your worst songs? 
Songs are my bacchas (children), so I don't tell any song of mine is worst. The songs that we created in those days are presented now as remixes.
There was some ups and down in your career. Was it due to personal or professional problems?
It is not because of anything personal or professional. I just did not want to take more work.
Can we expect more of Bappi Lahiri music now?
I have films like Journey from Bombay to Goa, Jhoom, Khushboo, Mudrank, Ek Hasina Ek Dewana, Jaane Bhi Do Yaroo, Budda Mil Gaya, Boothnath and of course, the show with the Jacksons, in the pipeline.