Home > Movies > Bollywood News

AR Rahman, on Sivaji and sisters

Arthur J Pais in New York | May 30, 2007 13:50 IST



After recording one of the most important songs for Sivaji, the Rajnikanth-produced Tamil film, composer AR Rahman invited the director of the film Shankar to listen to it. Shankar, who has worked with Rahman on several films, could of course instantly recognise veteran singer SP Balasubrahmanyam (SPB) in the song Balleilakka.. "But who is the female singer?" he asked.

"He thought I was joking when I told him it is Rehana," says Rahman with a chuckle. Rahana is Rahman's older sister. "She has performed with me in my concerts," he adds."She has sung part of the song Chaiyya, Chaiiya in the concerts but this time she was singing for a film, and that too a very big film, and we all knew the song would be one of the biggest hits on the album. And yet I did not want to take anything for granted. I think I took upon myself a challenge and see if my sister could sing well for a big budget film."

"But it took me 17 years of my profession to give my own sister a break," he says, with a small sigh. "People don't understand how mysteriously things work out in the film indstury. Many young people who send me tapes with their voices are disappointed that they do not hear from me at all. It is not easy to convince me. I am most critical with my own voice. You know that Tera Bina song in Guru was not originally sung by me. It was only at the insistence of Mani sir (director Mani Ratnam) I recorded it in my own voice."

Even with Rehana he was not sure even as she was practicing the song that he should retain her voice. "After three horus of singing, suddenly her voice sounded very different and beautiful," he reveals. "Only then did I decide to retain her voice."

The Sivaji album has some of the finest singers, new and old. The list includes SPB, Hariharan, Udit Narayan, Madhushree -- and then there is Chinamyee whose song in the film Guru enhanced her popularity. Rahman himself sings one of the most singificant numbers in the film, Athiradee, nearly six mintues long.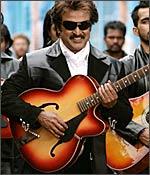 Many of the singers featured in the film including Hariharan, Madhushree, Rehana, Blaaze, Naresh Iyer and Vijay Yesudas will be coming to USA and Canada with Rahman for a concert next month. In New York the concert will be held at Nassau Coliseum on June 16. Chitra, Sadhana Sargam and Sukhvinder will also be joining the concert, expected to be the biggest desi musical event of the year 2007.
"We will be performing at least two songs from Sivaji, apart from my recent Hindi and Tamil hits including Guru and Rang De Basanti [Images]" says Rahman who is performing in the US and Canada after 3 years.
What was it like composing music for Sivaji?
"It was a very special feeling," Rahman said. "The expectations were very high, since Rajni, Shankar and I were working together. And this being a very big budget film, there was little room for a flexible recording schedule. Though we recorded a different version of the same song, and ended up retaining both versions in the film, it was still a very tight schedule."
"With some of the directors I have worked the schedule has always been tight, and I like it," Rahman says. "Even then, there are a few last minute decisions. For instance, the theme song of Guru (sung by Rahman and Chitra) was thought of just two weeks before the film's release. There was no such thing with Sivaji."
In the past, for some reason the songs in a Rajnikanth film have taken time to become big hits, the composer says. "In some cases, it is only after a month of the album's release have the songs become hits," he adds. "But here from Day 1 there has been a tremendous demand for the music."
In the case of Guru, he says, the song Tere Bina became an instant hit, followed by several other songs in the course of next two or three  weeks.
But with Sivaji, there were three instant hits a few hours of the CDs release.
Apart from Balleilakka, there was the song Vaaji Vaaji, sung by Hariharan and Madhushree, and Rahman's own number. Also a big hit is Sahara.
"I  have said many times how Madhushree has been evolving as a singer," he continues. "The Vaaji Vaaji song is another example of her growing status. We had to work for several hours on her Tamil rendition, but in the final reckoning I am very happy with her work."
Hariharan, along with SPB, has been associated with Rahman in many interesting films. Some of Hariharan's best work is found in Rahman's compositions in Bombay and Guru (Ye Hairathe).
"He is very different from most singers I have known," Rahman says of Hariharan. "The more you push him, the more inspired he becomes. Most other singers are content  singing a song and go away. But Hariharan likes to be challenged.'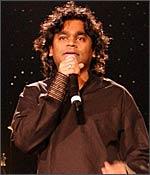 There are stories in Indian publications that Rahman was paid Rs 3 crores for Sivaji. The composer is not commenting on the fee. But he says right from his early years, what mattered him most while composing was the situation, and how enthusasiatic a director is about music.
"I don't like the idea of a director thinking, OK, we have Rahman and we expect him to come up with good music. Composing a good score is partnership with many people including the director, lyricist, and singer." The budget of a film or the remuneration he receives has no real bearing on the final product. "Around the time I was working on big budget films, I was also composing music for relatively smaller films such as Meenaxi made by MF Hussain." He had been told the film had no commercial prospects. "But I thought it was an interesting subject, and I was also excited that I was working with one of the greatest artsists India has produced."
Many of the tunes in Sivaji were finalised when Rahman was touring Australia or composing the music for Golden Age, Shekar Kapur's sequel to Elizabeth, in London.
"One of the interesting developments in this film's music is the way the two versions of the same song came about," Rahman continues. The song Sahara was recorded in the voices of Vijay Yesudas, son of the veteran singer and Gomathishree, daughter of Rahman's guru Dakhshinamurthi Swamigal.
"Gomathi is not just a film singer but she has an interesting voice," says Rahman. "I have plans to compose a few songs for her for a non-film album I want to produce ."
When director Shankar heard the song Sahara he liked it to some extent, but he wanted a faster moving version. That version, called Sahana, was sung by Udit Narayan and Chinmayee.
"But then we still thought the Vijay and Gomathi version had its own beauty," he adds. "Shankar decided to keep it in the film but as a background song." One guess is that it will be used in the film, similar to Yeh Hairathe in Guru.
The songs of Sivaji have become chartbusters in all the four southern states, particularly in Andhra Pradesh where the Telugu version of the sondtrack has become a must-have. According to industry insiders, over 500,000 CDs and cassettes were released and sold within a week. The Sivaji music is also huge in Malaysia and Singapore, which have a significant Tamil population.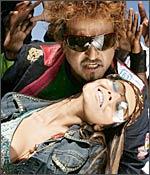 The film also has an elaborate background score and composing it and recording it was a severe challenge to Rahman for he was also working in London on the music of Golden Age at the same time.
"I just could not go to India and spend many days recording the music for Sivaji,"  he says. So he asked the producer (AVM Pictures) if the music could be recorded in Prague, Czech Republic (where he has recorded many songs including one or two numbers in Meenaxi), and in London.
'Not a big deal,' the AVM honchos told Rahman, adding that it was all right if the budget went up. They were going to be very happy to have a superior score.
"You hear a good range of music," he says. He has used the Czech Philharmonic Orchestra and the choral singers in the country's capital.
"I don't want to give many details but in my book, the score is as important as the songs in the film."