| | |
| --- | --- |
| Mithoon Sharma | |
| | |
| | |
| | |
| | |
| | |
| | |
Advertisement
May 30, 2007


Among the remixes and rip-offs doing the rounds in Bollywood, there are a few which stand out. The adaptation of Woh Lamhe and Aadat by 22-year-old Mithoon Sharma provide one such example. The songs from a couple of years ago are still a rage.

He followed these up with his soulful compositions for Anwar and Tere Bin for Bas Ek Pal. Though the former failed to impress moviegoers, the two songs Mithoon did in the soundtrack -- Maula mere and Toh se naina lage -- left an indomitable mark.

Now, after signing a deal with T-Series, the talented composer has made his first independent soundtrack for The Train. The reviews speak for themselves.

In an interview with Patcy N, Mithoon relives his way to rising stardom. Excerpts:

What was the briefing for The Train?

I sat with the directors of the movie, Raksha Mistry and Hasnain Hyderabadwala, who read out the script to me. I found the story very beautiful and wanted the music to compliment it.

Every song had to have purpose -- like the song Woh Ajnabee, which I made from the story. In the story, Emraan and his wife Sayali Bhagat are going through a rough patch in their marriage, and that's when he finds peace and love with a stranger (Geeta Basra). Hence, Woh Ajnabee.

What genre does the music of The Train belongs to?

I am quite bad at labeling music in any genre. I have no set rules. I just see to it that the music is inspired from the film. For example, for Anwar I wanted central Indian music, and for Bas Ek Pal urban.

You've sung for The Train. Have you always been into singing?

It was never decided that I would sing any song for The Train. I was ready with the music for Woh Ajnabee and was in search of a singer when Emraan started growing his hair for Awarapan. So we had to shoot the song before he grew his hair -- to keep the continuity. I then sang the song and got it shot earlier.

Why not Atif, your favourite singer?

There were two reasons I didn't take Atif. Firstly, I didn't think any song would suit his voice and secondly, when I knew T-series was in the picture, I couldn't ask Atif because he has a contract with Tips.
 
How was it working with Shyam Bajaj?
 
Shyam Bajaj's movies have great music. He gives creative space to the composer and never interferes. After my father, the person I would take guidance from is him.
 
What sort of response are you getting for The Train?

The response is universal -- they all like it. I have put in a lot of effort in this first complete album of mine. I have tried to give a varied sound as possible and so far the response has been good. Recently, I had gone to Dubai for the promotion of The Train and I was happy to know that my music topped the charts there. Woh Ajnabee, especially, is topping the charts over there.

What made you get into music?

My family has been in this field -- I belong to the third generation. My grandfather, Pandit Ramprasad Sharma, is a renowned music teacher. He taught nearly 5000 pupils. My father Naresh Sharma has composed background music for more than 1000 songs in over 200 films. My father's elder brother, Pyarelal, also composes music.

Where did you learn music?

My family is full of sound technicians. My grandfather has developed his own technique of staff notation. My father never taught me directly, he just observed me. I started with the keyboard at the age of 11 -- Rajeev Shah introduced me to it. Later, my father sent me to train under Tony Pinto, the country's leading Jazz pianist. I also took vocal guidance under Ustad Naseer Quadri.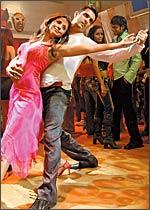 Why didn't your dad teach you?
My father believed that to be a musician, it was necessary to get a call from within. That is what my father taught me.
He used to observe me closely. He would see what I am practicing, how I use my fingers and my technique. From time to time, he also used to test how good I was. I had various teachers, but my father has been my foundation; someone from whom I have been inspired the most.
How did you get your first assignment?
At 16, I joined as a keyboard player in my father's orchestra. Then came a time when I would make my own arrangements and make my father listen to them. My real work began with a recreation -- an adaptation of a Pakistani song Woh Lamhe for the movie Zeher. Mukesh Bhatt offered that project to my father. But my father was busy and he recommended my name.
Mukesh Bhatt is very enterprising. I did the song and he liked it a lot. Then I did Aadat for the movie Kalyug. This was also an adaptation of a Pakistani song. After this, I decided to do something original. That's when I came out with Tere bin for the movie Bas Ek Pal. I liked Atif's voice and I asked him to sing the song.
How do you know Atif?
Mukesh Bhatt introduced me to him. Atif is a Pakistani singer who originally composed the adaptation (Woh Lamhe and Aadat). Saeed Qadri rewrote the lyrics. We worked together and we developed a good rapport. I thought this guy would sing the song well. Being from two different countries was never a hassle, as music has no barriers and borders. Atif told me he was looking forward to do more work here.
How was the whole experience of composing your own song?
It was very unique. It cannot be described in words. While working on a particular song, I always think of the outcome. And if a director is clear in his mind about what he wants from me, then things become much easier. For Tere bin, Onir was looking for a certain type of separation song that I already had. Saeedbhai rewrote certain lines and the song was ready. Bas Ek Pal had a very urban look. I wanted to get that aspect in the song too. Once you become a music composer, it is necessary that the sound complements the film's look.
How was it working with Onir?
Onir is a very inspirational director. He is very clear about what he wants. When he came to me for the Bas Ek Pal title track, he told me he was looking at a song that represents the urban side of the film. At the same time, the film was also about a cluster of relationships; it was a dark film. Onir wanted the track to also show the dark side of urban life. Keeping that in mind, I chose lyricist Amitabh Verma.
Take us through the making of Tere Bin.
Tere Bin is a special song for me. Composing is a personal expression. It is a divine gift of God to any person. Only musicians can express themselves in the most abstract manner and Tere bin was my expression. I had the concept and the song's music in my mind for quite sometime. Even before I signed the film, I wanted to do a song like that. It was in my mind for the last three years. This song is nostalgic and I relate to it a lot. I was very happy with the kind of harmony structure and vocal, as I followed no particular rule for this song.
Saeedbhai's lyrics were awesome. I just hummed him the tune and I still remember when he dictated the lines kabse aankhen meri, rahon main teri bicheen... felt those lines were a new expression all together. I have never heard it before. The soul came in as he went on -- kyun saans loon, kyun main jiyoon, jeena bura sa lage, kyun hogaya tu bewafa, mujko batade wajah...Music is important, but words are equally important.
Do you think getting into Bollywood is easy?
The biggest advantage was my family's musical background.
Tell us about your contract with T-Series?
My contract with T-Series states that whenever I do a non-film album, I will have to do it with them first. But it is abstract because nothing has been decided. As of now, I am concentrating on films.
What next?
After the soundtrack to The Train, my next release will be Agar in August. I am not taking on too much work, as I need time to create good music.
Which is your best song till date?
That's a tricky question. I have altogether four songs -- two songs from Bas Ek Pal and two from Anwar -- Maula mere maula and Toh se naina lage. These four songs are very close to my heart.
What was the toughest song you had to compose?
For me, music is not easy or difficult. Once I start working, music just flows. However, there was a complicated situation in Anwar. Director Manish Jha wanted to represent the immortality of love. He wanted the song to start after the protagonist dies. But I didn't the movie to end on sad note. I was a bit confused about what was expected of me. But I did it anyway, and the outcome was an 8.5 minute song which talks about the journey of love.
What is the music scene in India today?
I cannot relate to this question because I feel that every generation has its own expression. The younger generation are the biggest listeners of music. And they are the ones who are most exposed to stress.
So many songs are being lifted. What do you feel about that?
For Woh Lamhe and Aadat, Mukesh Bhatt bought the rights and I got the credit for only recreating them, which clearly means I was not involved in any controversy. The composer was given his due.
As far as lifting tunes is concerned, it is a personal thing. For me, it is more important to be honest and sincere to my own self and expression.
I listen to other music and get ideas. I am a big fan of Quincy Jones, John Williams, James Horner, Haynes Demour, MM Kreem and AR Rahman. We should learn from them and use our own expression. If I cannot relate to my work, I don't expect anyone else to. I won't lift -- I can say that.
Which composer do you like the most?
My father is my idol. Besides him, I am fond of Viju Shah and A R Rahman's music.