Home > Movies > Interviews

The Rediff Interview / R Balkrishnan

'Cheeni Kum and Nishabd are different'

May 22, 2007


| | |
| --- | --- |
| Tabu and Amitabh Bachchan in Cheeni Kum | |
| | |
| | |
| | |
| | |
| | |
| | |
After leaving his mark in the advertising industry, R Balkrishnan steps into the bigger arena with his first feature film Cheeni Kum, featuring Amitabh Bachchan, Tabu and Paresh Rawal.
The director, who admits that he is 'numb' just days before the film's release, claims that his film is not similar to Ram Gopal Varma's Nishabd, which had Amitabh Bachchan romancing an 18-year-old Jiah Khan.
Balkrishnan tells Narendran Singh more about the film, as well as his next movie, Pa, which may star the Bachchans.
Why Cheeni Kum and not, say Namak Zyada?
A romantic story usually carries elements of sweetness. When such a story has less sweetness in it, it automatically denotes less sugar. That's why we have named it Cheeni Kum.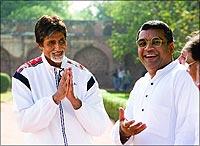 In the ad world, a story needs to be summed up in about 30 seconds. How difficult was it for you to treat a subject for more than two hours?
Advertising is basically an idea medium like films. The only difference is that in advertising that idea is for 30 seconds while for films, it takes longer. For me, to convey that idea in a two-hour plus film was a challenge.
Ad guru Prahlad Kakkar once said that he wanted to make a film but his only stumbling block was that he always finishes his objective in two minutes. What do you think?
This is not the case. Every individual harbours interests of different sort. Some can replay an idea in two hours as in feature films while anything lesser then 30 seconds results into ads.
You have managed a casting coup in your directorial debut.
When the idea for this film struck me, I only had Amitji and Tabu in mind. Had they not agreed, this film would not have been made. It was written specifically for them.
The plots of Cheeni Kum and Nishabd seem somewhat similar.
Both are different films. Cheeni Kum is a romantic comedy with no element of controversy attached to it. Nishabd was a well-made serious film. Nishabd had elements of black while Cheeni Kum has more shades of white.
The protagonists here are single, unmarried individuals. They are independent people.
It also talks about the problems they face. There is only person who talks about the age factor in the film and that is Paresh Rawal.
Why did you choose London as the backdrop?
Amitji is the chef of an Indian restaurant based in London. Tabu is an Indian tourist, who is on a trip to London. Indian restaurants are famous in London unlike New York.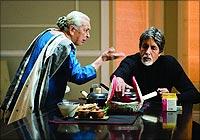 Ilaiyaraaja has composed the songs of Cheeni Kum. Why did you opt for him?
I think he is the greatest composer of this country. No one has achieved his greatness in terms of composition in this country. Unfortunately, not many people have heard his songs in North India because he mainly works in Tamil films.
I thought the time was right for people to listen to his music. I just love his compositions.
Ilaiyaraaja was an automatic choice and had he refused to do the music, this would have a songless film with just dialogues.
Which compositions do you love most?
Oh, there are lots and lots. A few of them have been picked form Tamil films, which he modernised.
The latest news doing the rounds is that you have signed Amitabh and Abhishek for your next film.
I'm yet to sign them but discussions are on.
The name of the film is very unique; you have titled it, Pa.
Yeah, it's about a father-son relationship. Abhishek calls Amitji 'pa' in real life. I heard it and decided to call my film that. (Laughs).
In one of your interviews you said that that you love the Karan Johar school of filmmaking and you dislike the way Sanjay Leela Bhansali makes his films.
I had not said this. I had only said that I am fond of Karan Johar's films. His films are entertaining and make you laugh and cry at the same time.
Which are your favourite films?
I like Dilwale Dulhaniya Le Jayenge and Karan Johar's movies. The World's Fastest Indian, which starred Anthony Hopkins, is one of my favourites. Meryl Streep is one of my favourite actors.
On the world cinema level, Children of Heaven and those made by Majid Majidi are my favourites. I hate the artistic elements in a film, which does nothing but drags the film. I love real human stories.
Are you nervous?
I don't know. I guess am in a state of coma (laughs). I am numb right now. I have done my job.
What do you think will happen before and after the film's release?
Before the Indian release of the film, there is a premiere lined up in London. I guess I would be sleeping that day.