May 17, 2007 17:47 IST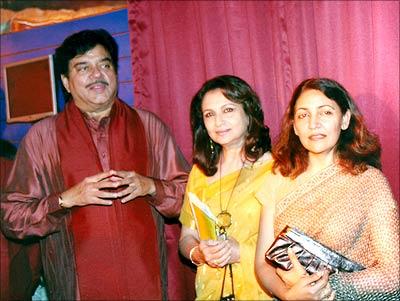 Manikdadu would have frowned.
(Far be it for one of us to dare call the great Satyajit Ray just da.)
A photo exhibit and screening of his Aranyer Din Ratri at a Mumbai theatre was an instance of good intent scuttled by ridiculous planning. And blatant Bollywoodism, of course.
Scheduled to start at 8 pm, chief guests Sharmila Tagore and Shatrughan Sinha arrived at about 9, after which much time was given to waiting flashbulbs. It was a while before we filed eventually into the theatre, a scanty crowd dying to watch the 1970 classic on the big screen.
But first everyone spoke. From a ridiculously inappropriate speech by Sinha to a bizarrely out-of-context Namesake endorsement by Tagore, it all seemed redundant. And overlong. Thankfully, writer Javed Siddiqui was reliably eloquent and evocative, and an ancient, brilliant (also tragically brief) look at Ray's work, directed by historian BD Garga, was well worth the wait.
After a couple more speeches and back-pats, the chief guests filed dutifully out of the theatre. Almost 11 pm. Finally, the film. A dozen people were all that remained to watch the Ray revival, and the audience sat back in anticipation.
The brilliant film followed, but lo! No subtitles. The rest of the crowd trickled out, leaving behind a smattering of bemused Bangalis. I sat, one seat ahead of actress Deepti Naval (right, in the pic), one right of director Sourabh Usha Narang, and played constant translator.
Do any of you have any idea how hard it is to translate the immortal Rabi Ghosh? Anyway, Bengalis of the world -- for a heartbreaking technical debacle has caused all the remastered prints to arrive sans subtitles -- better rush to Mumbai's Adlabs [Get Quote] cinemas, where 3 fantastic Ray films await.
Pratidwandi, Aranyer Din Ratri and the immortal Goopy Gyne Bagha Byne will play from 18-24 May.
It's an absolute treat, and I wish more of the city could enjoy it. Those who treasure fantastic cinema should go regardless of language. Interestingly, the Cannes jury had to deal with an unsubtitled Pather Panchali back in 1956, and they awarded it The Best Human Document.
Hmm. Guess we Ray-brethren should all just play translators. Maybe that's the price to pay for watching Goopy and Bagha on the big screen.
Text: Raja Sen | Photograph: Pradeep Bandekar