Home > Movies > Reviews

Cheeni Kum, not Ilaiyaraaja's best

Sonia Chopra | May 15, 2007 12:09 IST



There comes a time when even great composers like Ilaiyaraaja fall into a rut. And the album Cheeni Kum, by the great composer himself, is a perfect example of this.

The music is largely monotonous; only one or two voices have been used throughout. Not that Shreya Ghosal is not a good singer, she's terrific; but three songs one after the other, with the same voice, does begin to grate on your nerves. Plus, all the songs sound similar.

Perhaps the songs will work visually for the film, but acoustically, one does miss the variety in voices and singing styles.

Of the seven songs in the album, the last two are melodies without lyrics, and have been curiously named Veg and Non-Veg melodies. The former is soothing to the ear and has an 'operatic' feel while the latter has got jazz influences with an interesting play of instruments, predominantly the trumpet.

Cheeni Kum, the title song sung by Shreya Ghosal, has a souffle-light feel to it. Sung in a playful sort of way, her Shreya's voice sounds wonderfully vibrant at times while screechy in some parts.

Following this, we have Baatein Hawa Hain also sung by Shreya. The highlight of this song are the hilarious interludes by Amitabh Bachchan. The song is repeated at the end but without the interludes.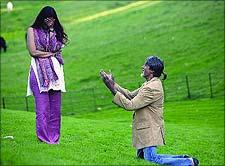 Then we have Jaane Do Na, yet another solo by Shreya, which is a nice enough song and quite hummable.
Sooni Sooni is the second version of Cheeni Kum in the voice of Vijay Prakash. The singer has an appealing voice, which sounds like Amitabh Bachchan's at times. Beautifully sung, this song is worth its alternate version just for the freshness of the voice.
Of the other five, two songs have been repeated with minor variations. So you can imagine how repetitive this album sounds.
Even lyrics by Sameer and Manoj Tapadia are disappointing and mediocre. When people say that they appreciate simple lyrics, they don't mean lyrics without any imagination whatsoever! Mixing Engineer Tanay Gajjar's mix is good in parts.
To buy or not to buy? If you can overlook the album's repetitive stance and lack of variety in voices, you may enjoy the songs.
Rediff Rating:

Want to see this movie? Check out Rediff Movie Tickets!