| | |
| --- | --- |
| Shonali Bose | |
| | |
| | |
| | |
| | |
| | |
| | |
Advertisement
May 15, 2007


Her first feature film Amu, based on a street play Shonali Bose co-wrote on the 1984 Delhi riots -- in which some 5,000 Sikhs were killed following the assassination of then Indian prime minister Indira Gandhi by her Sikh bodyguards -- has finally arrived in a handful of theatres in America.

The film has been endorsed by stalwart filmmakers like Mira Nair and Deepa Mehta. Bose, 42, who grew up in Calcutta, Mumbai and Delhi, has been an activist since her student days at Miranda House College, Delhi University and Columbia University, New York. She lives in Los Angeles with her husband and children.

Amu has been shown at several important film festivals, including the ones in Berlin and Toronto. In conversation with Rediff India Abroad Managing Editor (Features) Arthur J Pais, Bose says, "The curtain is yet to fall on one of the darkest chapters of Indian history."

Who were your audiences in Canada?

In some theatres, for instance in Toronto, a large number were non-South Asians. They were whites. They had heard or read about the film when it was shown at film festivals and certain college campuses.

They were also interested in the human rights issues in the film. In certain cities, there were quite a few Sikhs. But we also discovered many Sikhs in Canada are not in the habit of seeing arty films -- or at least a film like Amu. They would rather buy a DVD and watch it at home than see it in theatres.

But we were more than happy with the response to the film.

How did you promote the film?

We had an almost nonexistent budget to promote it but I made sure there would be a question and answer [session] after practically every screening.

What were trying to convey?

While answering the questions, I was also trying to address the issue of communal poison that exits in Canada. There are many Sikhs in Canada who were born and raised in India but they identify themselves as Sikhs.

I came across many young Sikhs who knew only one side of the story. And it was terribly important for me to correct that version.

And what was that?

They were convinced that the Sikhs were slaughtered by Hindus, as if the Hindus at large sanctioned the mindless looting and killing that followed the assassination of Indira Gandhi.

There was no doubt in my mind that the violence and killing was well organised. But there were also many Hindus who protected the Sikhs, and later went around publicising what had happened to the community during those terrible days.

I wanted to bring that out, and that is why this film was made.

What were trying to show to non-Sikhs and the mainstream audiences?

The film in a way celebrates the courage in ordinary people and activists. I wanted to remind Indians in general that this was a terrible atrocity and a great tragedy and that we should face it.

It is never late to address the issue and bring the guilty people to justice. I also wanted the Indian audiences as well as the white audiences in Canada to know that while some people look at Sikhs as terrorists, there are also real life stories of Sikhs who were victims were terrible social injustice and violence.

Some people may wonder why a Hindu has made this film.

I admire the good things in Hinduism and when I am gone, my last rites would be Hindu rites.

I also feel tremendously patriotic about India, and there is no time when I am not connected with India.

But for a very long time, going back to my college days, patriotism to me has meant questioning injustice around me, questioning the trampling of human rights, and celebrating the courageous men and women who stand up and denounce the wrong things.

Why did Amu take such a long time to have a general release in America?

I did not want the film to go just those theatres that show regular Bollywood films. I needed a mainstream distributor to show the film at large so that Indians as well as anyone who is interested in a good film and in human rights issues will see it.

Finally, a small but committed distributor, Emerging Pictures, is releasing it. 

What other experiences do you cherish most from the screenings?

Last year the American Film Institute showed Amu to about 600 students in the 8th, 9th and 10th grades in Los Angeles. When I first saw the students I felt nervous. I wondered if they were dragged to see the film, and what they would do during the screening. I wondered if they knew where India was on a map; or if they knew anything about India. We were even more nervous than the time the film was shown at the Berlin Film Festival. But we were in for a pleasant surprise.

What happened?

They did not sit quietly during the film. They reacted to it emotionally. They could understand what was happening.

When the young man and woman in the film were about to kiss and did not do so, there was a bit of groaning in the theatre.

When there was a confrontation between the mother and daughter, the students would shout, 'You go girl!'

These were teenagers; but in India the film was given a restricted certificate.

What was your reaction when the censors in India gave the film an adults-only certificate? 

If ever there were doubts that a cover-up of history had taken place, they were set to rest when the Censor Board explained why they gave the film an 'A' certificate.

One of the board members said, 'Why should young people know a history which is best buried and forgotten?'

You certainly had no intention of burying history.

That was the point in making this film. We made the film because they need to know. This is a cautionary tale for our times. It is not about something that happened 23 years ago. It could happen again at any time across India. And that is why the film connects to the Gujarat riots.

What would you want people to get out of this?

If nothing else, enjoy the emotional story of a young woman who wants to find out about her birth parents. It is like a good mystery story.

Beyond that?

To remember that the curtain is yet to fall on what is arguably one of the darkest chapters of Indian history.

But there have been courageous people. In contrast with the governmental efforts, a number of groups and activists continue with their initiatives over the years. They provide relief and rehabilitation to the victims, fight legal battles for them, hold independent inquiries and document the events in books and booklets.

Thanks to their efforts, the infamy of 1984 cannot be buried or wished away, official efforts to the contrary.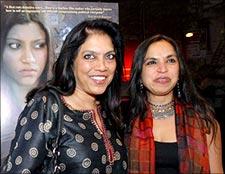 Tell us about the odds you faced while making this film.
Many people, even my close friends, advised me that a first film should be saleable -- a horror, a comedy, a love story -- definitely Bollywood.
Why did you not listen to them?
The story of the riots and relief camps of 1984 insisted on being told. I knew that was the film I had to make.
No matter how hard it was going to be, it was the story I had to write, the film I had to make and show to a world that didn't know the suppressed history of that genocide.
You had produced a street play about the 1984 killings but surely writing a film was very different?
It took me four years to write and rewrite Amu and look for the financing, all the while bringing up my children.
As a writer I felt I had to write about that which was most painful for me in my life, and so Amu also became the story of a mother-daughter relationship and of maternal loss -- the same tragedy that had brought me to America many years ago.
It was a deeply personal story, which made the countless rejections and closed doors even harder to face. Indian producers felt it would not be possible to shoot such a film, that if it got made no one would want to see such a film, and that if it released at all the theaters would get burned down.
So we raised our own money.
How did it come about?
In early 2003, an independent producer who had promised to produce the film suddenly dropped it, thinking it was too risky.
That night at the kids' bedtime, as we performed our ritual of sharing our `good thing, bad thing of the day,' I told them my `bad thing.' My younger son immediately handed me his tooth fairy money and my older son, the pocket money he had saved for the last two months.
Later, when I told my husband what had happened, he passed me a letter he had got in the mail that very evening. It was a royalty check from NASA [where he is a scientist] for his invention of the world's smallest camera.
There was no debate about where the money should go! It covered only a small part of the budget, but we got started.
How have you changed as a film-maker in the last three years?
[Chuckles] I have come to appreciate the importance of having stars in a film. We had superb artists such as Konkona Sen Sharma in the film but if Amu had a star, it would have reached a bigger audience.
But then, looking back at the way we made this film, I would not have been able to have a star then.
Some of the best European directors did make films with stars, isn't it?
Very much so. And that is why in my next project Chittagong, I need to have stars. The film cannot be made on a small scale. And that is the reason why I am not making it Bengali. I want it to reach the widest possible audiences.
What would some of the key missions for the movie be?
Among other things, it will celebrate the bravery of ordinary people, very young people included, who defied the mightiest empire in the world, the British Empire.
Photographs: Paresh Gandhi