Home > Movies > Southern Spice

Sivaji in theatres on May 31

Shobha Warrier in Chennai | May 14, 2007 12:16 IST



The long wait is over. The most anticipated film of recent times, Sivaji, is releasing on the May 31, AVM Studios announced.

"No, it is not a lucky number or anything like that. The post-production work will be over by May 15," S C  Babu, CEO, AVM Productions said.

Other than the digital prints, 400 Tamil and 300 Telugu prints will be sent to various theatres all over the world making it the first Tamil film to be released simultaneously in the US, Canada, Europe, Singapore, Malaysia, Sri Lanka and Australia.

In Tamil Nadu, a large number of digital prints will be despatched to 140 digital theatres for the first time. However, the names of the theatres have not been finalised.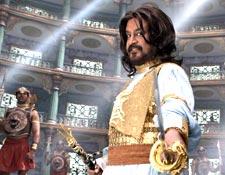 "From the response we are getting, it looks like the first two weeks will be fully booked even before the release," Babu said.
AVM seems excited about their new product, which has taken more than one and a half years to finish.
The CEO agreed that Sivaji is the most anticipated film in India now. "We keep getting queries about the film not only from Tamil Nadu but also from all around the world," he added.
Meanwhile, the music of Sivaji by A R Rahman is a hit. "We got excellent feedback from places like Punjab where people have loved every song though they cannot understand a single word, which goes to show music has no barrier," the CEO added.
Incidentally, Sivaji is Rajnikanth's 100th Tamil film, and the ninth for AVM. All the eight films Rajni had done for AVM were huge hits.
Sivaji is also the most expensive film made by AVM and according to the CEO, "possibly the most expensive film made in India too."