Home > Movies > First Look

Laughter Challenge is back!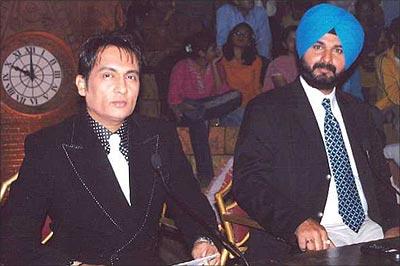 It was an afternoon Shekhar Suman and Navjot Singh Sidhu would like to forget as mediapersons grilled them about the falling standards of the jokes in the second season of the television show, The Great Indian Laughter Challenge and the reports of growing differences between Sidhu and Shekhar.

The two addressed the media in New Delhi's Intercontinental Hotel, as they launched the third season of the hilarious realty show, Laughter Challenge.
"Never before has any programme reached the heights which this programme has achieved," Suman stated. "I have had personal reasons for not appearing in the programme with Sidhupaaji because I was cutting an album, shooting for films and doing other assignments. Minor differences do arise between two personalities when they sit together. But it wasn't as if we were not on talking terms."
Former cricketer-turned-politician Sidhu added that it was natural for differences between two people to crop up.
"Star TV shot separate programmes with the two of us with a guest each, and it was their call to bring us back together," he said. "Why they separated us or decided to bring us back together is a question that can be answered best by the channel."

Both of them admitted that they had received complaints about the falling standards of the jokes in the show. "We try to refine the jokes and language and teach the participants some techniques. But sometimes, they get out of hand. Just like a coach cannot be blamed for a poor shot of a master batsman," Shekhar explained.

Sidhu blamed the editing team for pasting his laughter on some of the jokes even before they began. "Bhai, yeh pooch ke aapne meri izzat bacha li," he said with a broad smile when a journalist asked him why he laughed even when there were jokes about dead people.
The third season will begin on May 18. The programme will be divided into two parts. The show will be telecast on Friday and Saturday at 9 pm. The top two, who will win Friday's show, will face each other on Saturday.
Shonali Nagrani and Parizaad Kolah would host the show.

The talent hunt for the programme began at 11 centres, including Nagpur, Baroda, Agra, Raipur, Chandigarh, Kolkata, Mumbai, Rajkot and Lucknow.
The show -- to be aired on Star One -- will have two women contestants as well as participants from Pakistan in the 32-episode show, spread over 16 weeks. The winner is likely to be announced in September.
Text: Onkar Singh in New Delhi