| | |
| --- | --- |
| A still from Delhii Heights | |
| | |
| | |
| | |
| | |
| | |
| | |
Advertisement
March 30, 2007 14:23 IST


To be fair, the extra 'I' should warn you.

We've been doing it for a while, the gleeful misspelling of names and words, the distinctive double-n's and the inspired triple-k's, prominently evident on our soapy television sets. But while letters are merely annoying when trying to emphasise the purity of a leading bahu, they take on a whole new level of idiocy when tacked on to a proper noun.

So we aren't just talking Delhi here, in this Sivaji Productions film about a highrise building that could be set anywhere in the world, provided there are enough Punjabi-speakers in earshot. Instead, we're talking Delhii, the capital city yodeling even louder than usual. Ouch.

What would possess you to go watch this film? A very pertinent question, that. Don't be misled by Rabbi Shergill's Dilli, an admittedly evocative ode to the city. It plays during the end credits and you're way better off catching snippets of it on a music channel. So what else is left? Um, nothing, really.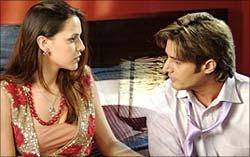 Delhii Heights is the name of an apartment complex, presumably located in Gurgaon. The film is meant to be a slice-of-life story of its residents, which include lead pair Neha Dhupia and Jimmy Shergill, ad agency rivals who have fatally decided to tie the knot.
Then there's Om Puri, playing a genial sardar, the kind who likes a jog in the morning and his iscotch poured right after sundown. Flop Show alumnus Vivek Shauq is a bookie of ambiguous origin, and we have hapless Simone Singh, married to compulsive flirt Rohit Roy.
Ah, and the boys. A group of four uber-wannabe lads, wearing their vests over their tees, whose aim in life is to hit on anything that moves, and with characteristic hypocrisy, target one of their own for admitting that's what he wants to do. Sigh.
Sounds okay? You'll be surprised. There's precious little to watch in this haphazardly put together tale of predictable pitfalls. The characters are barely written, and coupled with a set of superlatively poor actors (Om Puri is obviously a fish out of water here, and can't help but be realistic), this is a tiresome watch.
It's not that any of this Anand Kumar film is particularly offensive (more like a very blah, unfunny sitcom), and my, how valiantly the non-actors try. Neha Dhupia, an advertising executive with a penchant for chunky chokers, gives the impression that she's doing absolutely the best she can. If only she could avoid overdoing the over-earnestness.
Shergill, a lad with a good grin and, going by a female whisper I heard in the theatre next to me, 'yummy with his mouth shut' is positively insufferable in this role, of a simpering fool with major ego issues and career insecurity.
Rohit Roy is ebullient to the point of pain, and we wonder why he cheats on pretty wife Simone with a string of moronic women (who introduce themselves with a 'Hi, I'm a model') and, more vitally, why Simone is still married to him. Or, even more realistically, why she's in this movie anyway.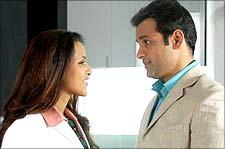 As said, the soundtrack is misleading. Rabbi has crafted an original, if repetitive, set of songs for this film, but if you find yourself in the theatre, you'd be best advised to close your eyes when they play. It'd come as some respite, the decent songs minus a relatively plump Ms Dhupia or the barely gulal'd Holi players.
And as the last nail in the coffin, there's Tere Bin. Don't get me wrong, it's a great song with very nice lyric. Except on screen, as we accompany a sobbing Jimmy boy drive through rainy streets, two bizarre things happen: Sudden English words are tacked onto screen in an abrupt attempt to subtitle the song; and Rabbi Shergill pops up, a music-video spectre, strumming his guitar while Jimmy sniffles. You might like the song, but this is extreme Shergill-overdose, and very avoidable.
Why are films like this made? I haven't a clue, but if, as mentioned in the opening, the extra 'I' didn't warn you, at least I should. Stay away.
Rediff Review: