Home > Movies > Interviews

The Rediff Interview / Murali Nair, director

'Now, Bollywood is being promoted at Cannes'

March 27, 2007


| | |
| --- | --- |
| Murali Nair | |
| | |
| | |
| | |
| | |
| | |
| | |
In the first part of an exclusive interview, director Murali Nair focused on his latest film Unni which is being screened for the first time in India at the Hyderabad International Film Festival.
In this concluding part of the conversation, the filmmaker spoke to Radhika Rajamani about his Cannes experience and earlier films. Excerpts:
From studying geology to landing up in films seems interesting. How did you turn a filmmaker? Heard you worked as an assistant director.
I did an MSc in geology. I took it up without knowing what I was getting into. As you know, all parents want you to study well. I got fed up of geology. After my post-graduation, I took a well-paid job in Mumbai in an onshore rig in Bombay High. It was a monotonous job, and I got bored in six months. I was counting my days. I could not interact much with people and I loved interactions. Then I gave up my job. I was even embarrassed to tell my parents initially. I began to travel all over India. My parents got to know through someone else. I travelled to different parts of the country for a year and a half. Then I joined the St Xaviers Institute of Communication in Mumbai for a course in communication.
I grew up in a village initially. I was interested in watching films but I was not allowed to watch more than a film a month, and sometimes I could not watch even that because of household or farming responsibilities. The Kerala International Film Festival I attended in 1989 had a deep impact on me.
After I finished my course in communications I got a job as third assistant director with director Pawan Kaul who was making Chor aur Chand being produced by Aditya Pancholi, starring Aditya and Pooja Bhatt. I didn't know Hindi at that time but there was no prejudice against me. I was treated well. Since I was eager to learn the craft I joined and even worked as a production assistant on an outdoor shoot in Darjeeling, managing 80 people. But I came out of the film, even before the film came out. I then worked as an assistant on the television serial Chandrakanta. I also did a stint as assistant director with Mani Kaul.
How was the experience of working with Mani Kaul?
It was a good experience. We got along well. His films had a different identity. I worked on two projects (one was a short film) for two years. I could see the focus of Mani Kaul and his way of work was different from the Hindi film industry. It was an eye-opener for me.
Your first film Tragedy of an Indian Farmer won a National Award. You made three short films (one of which featured at Cannes) before you made your first feature film...
I made a short film in order to know my potential about the craft, to know whether it is possible to make a film or not. Tragedy of an Indian Farmer was based on a Malayalam poem combining the farmer and social themes and exploitation. I was interested in social themes.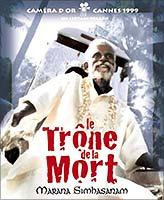 Marana Simhasanam, your first feature film, won the Camera D'Or at Cannes. It had a unique storyline juxtaposing two worlds. How did the idea for the film germinate?
Farming is the backbone of Indian society. The interest of the capitalist to break that backbone to create that market meant the death knell was sounded for the farmers. That triggered the idea.
Your second and third films Pattiyude Divasam and Arimpara were also screened at Cannes. How easy or difficult was it to adapt O V Vijayan's short story as Arimpara? Why did you adapt this particular story? Also, you had mainstream actor Nedumudi Venu playing the protagonist...
It is difficult to adapt a short story. People try to compare the film subconsciously with the literary work. Literature has different possibilities, and film is looked at in a different way. They are different mediums. It was certainly challenging. O V Vijayan had some suggestions I agreed to.
The element of surrealism was appealing. Also the story had a certain structure and was set in a rural background. It needed a mainstream actor as he had to show complex emotions, and therefore, I chose a mainstream person.  
You seem to be at home in Cannes terrain. Do you think Indian films get their due there?
Now Bollywood is being promoted there. At least in Cannes, importance is given to the artistic value of the art form. We are cut off from the international art-house scenario. International art-house movies are now profitable; there is state funding. But in India, marketing is not explored properly. There is not much promotion and the government is not interested in extending help.
Why do you make films in Malayalam? Is it because of the comfort level in the language?
I knew the culture as I grew up in Kerala. So I wanted to make films in Malayalam. Now I am trying to move away from Malayalam.
You seem to be delving into the political-socio ethos of Kerala in your films...
I grew up in an atmosphere where one was involved in student politics. Because I grew up there, I got exposed to the literature of the world, and ideologies. I am lucky to have been exposed to all that and this had its impact on me.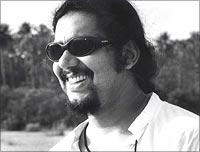 What does cinema mean to you? Is it for entertainment or education?
I never looked at cinema as entertainment. For me, cinema is always an art form, a medium to express myself. Other can see it as entertainment or education.
What are your future projects?
My next film is a social satire. It's a story of a man from the village who is trying to find a mate for his goat. The film looks at what he sees in this journey. The script is ready. I am on the lookout for a good actor to play the main lead. It's too early to talk about it now.
How has your journey in cinema been?
It has been smooth. I have no complaints. I have enjoyed every aspect of it and I am quite happy.
Don't miss: Part I of the Murali Nair interview: 'How far can an independent filmmaker go?'