March 16, 2007 12:16 IST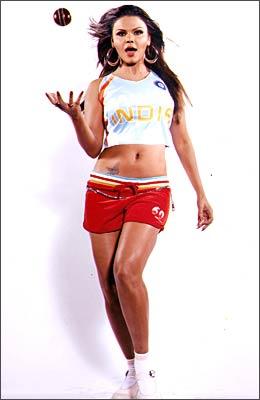 Mandira Bedi has got competition from Rakhee Sawant.
The television channel Sahara Filmy has launched a three-minute show called Rakhee Ke Bouncers that will bring a different dimension to the ongoing World Cup matches.
Comedian Suresh Menon will accompany Rakhee, and the two will comment on cricket terminology, match results etc. Rakhee plays a 'bimbette commentator' who knows about fashion and films but not cricket. Suresh appears in the show imitating celebrities like Nana Patekar, Dilip Kumar and Sachin Tendulkar.
Asked whether she would make a better commentator than Mandira, Rakhee says, "Of course! I am not going to wear a sari and low cut blouses like her. My show will be a hilarious spoof. Given a chance, I can give a better commentary than Mandira!"
Rakhee's favourite cricketer is Mahendra Singh Dhoni, India's wicketkeeper. "Dhoni sab ko dho dalta hai (he beats his all competitors). I also love Dada (Saurav Ganguly) and Sachin Tendulkar," she says.
Shailesh Kapoor, Marketing and Content Head of Filmy, said, "Rakhee is one of the most exciting faces on television today. In Rakhee Ke Bouncers, our viewers will see her in a new, comic role. Cricket can't get hotter and more glamorous than this!" 
Rakhee claims to love cricket and be an ardent follower of it. So we decided to test her. We asked her what a fine leg in cricket meant. Rakhee raised her leg, and said, "In my language, this is fine leg."
Rakhee Ke Bouncers will start from March 23.
Text: Syed Firdaus Ashraf