| | |
| --- | --- |
| Fardeen Khan and Esha Deol in Just Married | |
| | |
| | |
| | |
| | |
| | |
| | |
Advertisement
March 16, 2007 17:44 IST


If you have seen Honeymoon Travels Pvt Ltd, you can give Just Married a miss. The film's concept is pretty much the same. Four couples are on their honeymoon, while another is celebrating their 40th wedding anniversary.

 

When I spoke to the film's director, Meghna Gulzar, and asked her if the film is similar to Honeymoon Travels, she got pretty miffed. Later, she told me, "How can you say that without watching the two films? Most love stories have only one couple in it, are those love stories the same? If yes, then people should stop making love stories. I have not seen the other film, so how do I say what the difference is?"

 

Now, having watched both films, I would like to ask her, 'So how different are the two films?'

 

Just Married stars Fardeen Khan, Esha Deol, Kirron Kher, Satish Shah, Bikram Saluja, Perizaad Zorabian, Mukul Dev, Saddiya Siddique, Raj Zutshi and newcomer Tarina Patel. The couples are on their way to honeymoon in Ooty.

 

Fardeen and Esha have an arranged marriage, and don't know each other well. But the rest of the couples have been together for a while -- like Kirron Kher and Satish Shah, who are celebrating their 40th wedding anniversary.
Just Married does not have a story. It is just a series of incidences -- lovers' tiffs, romantic rendezvous, a walkout, and more. Of course, the problems get sorted out at the end of the film.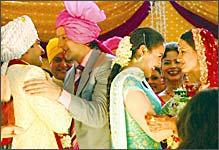 The film has its share of light moments, and starts pretty well. Midway, it tends to drag but catches up later.

Esha's plays a shy bride, who is not ready for an intimate relationship with a stranger yet. Fardeen plays an understanding husband, who loses his patience in the end. Both actors do well.
The rest of the actors do an okay job, but in the initial scenes, all of them look amateurish.
Kirron Kher and Satish Shah make the best couple, nagging each other constantly, and yet, being very loving.
The film's music is good, and the songs gel well with the different situations.
In conclusion, Just Married is a good one-time watch.
Rediff Rating: