Home > Movies > Reviews

Hattrick: Not as entertaining as a cricket match

Komal Mehta | March 16, 2007 12:11 IST


| | |
| --- | --- |
| Rimii Sen and Kunal Kapoor in Hattrick | |
| | |
| | |
| | |
| | |
| | |
| | |
Milan Luthria's Hattrick is a story about five people: Madhav Anna (Danny Denzongpa, who plays a former cricketer), Nana Patekar (Dr Satyajeet Chavan, who plays a no-nonsense doctor), Hemu Patel (Paresh Rawal, who plays an illegal immigrant in UK) and newlyweds Saby and Kashmira (Kunal Kapoor and Rimi Sen). The lives of these people are affected by the cricket World Cup.
Now, if you're wondering how that's possible, just look around. Do you know of anyone who is not affected by World Cup?  Sports attire manufacturers are selling Indian cricket T-shirts, music labels are making special albums for 'cheering the Indian Team', Rakhi Sawant has a cricket show, radio stations are airing cricket contests and of course, those cheer songs, and movie theatres are playing Hattrick, a film on cricket.

Of the cast in Hattrick, Danny Denzongpa is the most likeable. I hope filmmakers will take note of him and cast him more frequently.
Apart from him, there are no surprises about the rest of the cast.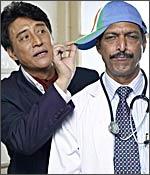 Nana Patekar does his Nana Patekar routine. He plays a mean character who struts around sprouting witty lines and at the end of the film, his softer side is exposed under the hard shell. He plays his role exactly like his taxi driver character in Taxi No 9211.
And we have seen Paresh Rawal's gujurati bhai earlier. His track is vague; it seems like a tangential story for the NRIs. Rawal acts flawlessly, though his bitter character gets boring and predictable after a while.
Rimi Sen does a seductive number, and then blends into the wallpaper. She should really get herself a real role.

Kunal Kapoor's Saby is an 'immature' cricket fan. He prefers watching a cricket match on his wedding night instead of spending time with his bride. And then, he gets himself a divorce when she develops an obsession for Indian wicketkeeper Mahendra Singh Dhoni. Kunal and Rimi have the shortest screen time and their story could have been done away with.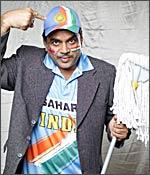 But I liked the scene in which Kunal plays a male stripper. Talk about utilizing your stars to the full potential! But sorry, girls, he doesn't do a Full Monty. 
The movie could obviously have been made without the cricket dimension. The doctor-patient (Patekar-Denzongpa) story is the only one that actually gets affected by cricket.
According to the makers, 'Hattrick is the story of triumph of the human spirit.' Sadly, large doses of magic and spirit -- which is an essential ingredient for any sports-related film -- is what it sorely lacks. Why a cricket lover watch a cricket film in a theatre during the World Cup stumps me. 
Hattrick is bearable but not half as entertaining as a cricket match would be. At the end of it, all you remember is that it had something to do with cricket.
Rediff Rating:

Want to see this movie? Check out Rediff Movie Tickets!