Home > Movies > Bollywood News

'We have become part of Namesake'

Arthur J Pais | March 12, 2007 17:00 IST



Amar Lahiri cannot recall the number of times he has read through his daughter's (Jhumpa Lahiri) bestselling novel The Namesake. But seeing the movie version of the book was quite something, he says.
 
"To see the stories in action is another kind of experience," says Lahiri, a librarian in Rhode Island, who had come down to New York to attend the premiere of the film, along with his wife Tia, a teacher.
 
"There were so many touching moments in the film that brought back memories of our friends who lost their parents in India while they were here," he said. The Lahiris too have lost precious family members after they migrated to America via the United Kingdom.
 
He says the train accident, which plays a pivotal role in the novel as well as in the film also affected him. A cousin of Lahiri was in train accident in 1961, and the librarian remembers vividly the episode. His daughter looks to her parents for anecdotes, insights, and details to weave into her stories.
 
"But more than anything, we felt deeply for our daughter," Lahiri continued. "We know thousands of people have read her book, and now after this beautiful film, I am sure many more people will want to read it again."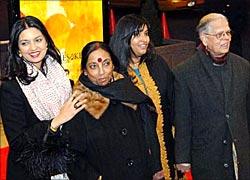 Director Mira Nair, who saw the film primarily as the story of parents and children, who in this case live in a foreign country (the parents), has called The Namesake her most personal film ever.
 
It is also a personal film for the writer and her family, for another reason.
 
Amar Lahiri, his wife, and even Jhumpa appear in fleeting scenes in the film. There was this wedding scene filmed in Kolkata which also features many of Jhumpa Lahiri's relatives.
 
"Mira Nair (the director) has given us more than a beautiful film," says Tia Lahiri. "We feel as if our whole family is connected to the film. We have become part of the film."
 
And daughter Jhumpa won't forget Nair's gesture, either. 'In real life, my nuclear family in America and my extended family in India are separated by about 8,000 miles,' she writes in The Namesake, the pictorial companion to the film. 'But Mira binds us together, in the form of extras embedded in numerous scenes.'
 
Nair has used the paintings of  Phani Bhushan Sanyal, father of Tia, in the film.
 
Nair, who suggested to Tabu and Irrfan Khan that they could learn a few things about immigrant life by observing Lahiri seniors and made the actors spend nearly a day with the couple, saw the watercolours in the Lahiri home in Rhode Island. She fell in love with them, the Lahiris remember, and asked their permission to use them.
 
Jhumpa Lahiri is also touched by the use of the pictures.
 
"The details that touches me most has to do with a few pictures within this picture," she writes. "Like Ashima's father in The Namesake, my mother's father was a painter. My grandfather (who also happened to be a great lover of the movies) never had the pleasure of knowing that people around the world would see his watercolours one day."
 
Tia Lahiri says many scenes in the film reminded her of her own early immigrant years, especially the scene in which Ashima, newly arrived in America, tries to make sense of how the Laundromat works. "We had never seen washing machines when we grew up in Kolkata," Tia says with a chuckle. Using it was one of the first lessons she had to learn about life in America, she adds. 
 
But more than anything else, it is the little scene in which Noor, Jhumpa's second child, is featured that swells grandmother Tia Lahiri's chest.
 
Noor is Baby Sonia who gets her annaprasan in the film (a Bengali ceremony giving babies their first taste of solid food). But Noor had her real annaprasan a few days after the filming. Everything went alright that day except the video camera refusing to function.
 
'As a result, the only footage of Noor's first meal -- albeit an ersatz one-- is thanks, most serendipitously, to Mira and her sublime cameraman, Fred Elmes,' Jhumpa Lahiri writes.
 
Tia Lahiri readily agrees. She has seen the film two times but she could see the scene any number of times, she adds with a chuckle.
 
"I tell Mira, you have given us experiences that would last for ever," Tia says.  
Photograph: Paresh Gandhi