| | |
| --- | --- |
| A still from Water | |
| | |
| | |
| | |
| | |
| | |
| | |
Advertisement
March 09, 2007 19:56 IST


Water is a powerful film.

That said, it's a film made with an eye on the international audience, hence as an Indian viewer, there are moments when you find things being spelt out for you -- but this is a minor complaint.

The story is set in an widow ashram run by Madhumati, played by actress Manorama. Returning to the screen after years, she delivers a performance so stunning and nuanced, that she makes you hate her -- and yet there are moments when you know why she is the way she is, crying over a dead parrot and sending a 8-year-old girl to be bedded by a zamindar.

We all know the story is about the state of widows in 1938 and the lives they lead, living a life with two white sarees, one sparse meal a day devoid of any taste, a life with no color or taste or smell, devoid of all senses. No matter how much we scream and shout about Deepa Mehta making a film which portrays India in a negative light, widow remarriage is still a big deal in India. We still expect a widow in mourning to be wearing a white saree and be devoid of any make up, a widow is never called to any haldi kumkum ceremony, and her being around in auspicious events is still considered a bad omen -- sadly, this is not a small percentage of people we are talking about.

Water at the Oscars | Film loses

Water starts with Chooiya (Sarla, an absolutely wonderful child artist) whose husband dies the very day of marriage and she is sent to the widow ashram.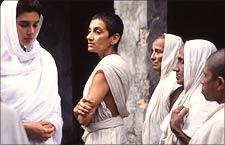 We experience the daily wife in an ashram through her and her smart one-liners where she questions every rule in the book.
She befriends Kalyani (Lisa Ray) and Shakuntala (Seema Biswas), who try and protect her from the powers that be including Raghubeer Yadav who plays the part of Gulabi, a eunuch, with such ability that you fail to even notice the actor.
'My heart sank when Water lost'
Woven into the narrative is also the poignant vignette of an old lady, one who lost her husband when she was 8 -- the last time she ate a good meal, the last time she ate laddoos. After a lifetime of abstinence, her mind can only think of one thing and one thing alone -- laddoos. Day and night she discusses the laddoos she ate, knowing she won't get one even as she dies. To put it mildly, this chapter alone is worth watching the movie.
Lisa Ray is a revelation with her understated performance, while Seema Biswas doesn't act -- she is so real that you fail to see her acting out a part. A pity we waste an actress of this caliber, who should be touted as the best of this country.
Chuiya and Narayan's (John Abraham) Gandhian ideals bring hope to Seema and Lisa, but then hope is a dangerous thing.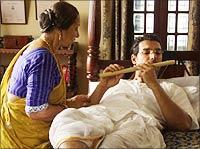 Water is shot beautifully by Giles Nuttgens, who has shot all of Mehta's films. There are times when you can make out this isn't India, with a few supporting cast members looking decidedly south Indian, not from Varanasi. AR Rahman's music is nice however you miss him doing the background score. Despite Michael Danna doing his best, Rahman would have infused more soul into it.
Deepa Mehta: Gandhi is the film's real hero
Deepa Mehta's struggle as a writer and director of this film bears fruit with a film that will stay with you long after you have left the theatres. We can only wonder if Nandita Das would have been more vulnerable than Lisa Ray, if Shabana Azmi would have been better than Seema Biswas?
Honestly, after watching the film, I don't care.
What I do care about are the characters and the look in their eyes, a look you will still see in the eyes of countless women, children and men we encounter on the streets of our country. The look of hope. Hope for a miracle.
Rediff Rating:

Suparn Varma is a former rediff.com employee and has directed the Fardeen Khan-starrer, Ek Khiladi Ek Hasina.