Advertisement
March 09, 2007 14:27 IST


It is very rare to find a gripping Bollywood film that doesn't use the usual gimmicks to tell a tale. 1971, directed by 31-year old Amrit Sagar, is one such film.

Set against the backdrop of a prisoner's camp in Pakistan, the film is a no-nonsense tale about six Indian prisoners awaiting release after their capture in the 1971 India-Pakistan war. While the war saw the creation of a new country, Bangladesh, at least 54 prisoners of war are still languishing in Pakistani jails.

In the film, with six years gone and no sign of freedom, the prisoners are ready to bolt. Anxious to join their families across the border, they plan a daring escape. Whether they succeed or not remains to be seen in this 137-minute, fast-paced and thrilling adventure involving helicopters, trucks, jeeps, and through scenic landscapes.

Kumud Mishra (Captain Kabir), Chitaranjan Giri (Subedar Ahmed), Manav Kaul (Flight Lieutenant Ram), Manoj Bajpai (Major Suraj Singh) and Ravi Kishan (Captain Jacob) excel in their roles. However, the real hero is Deepak Dobriyal as Flight Lieutenant Gurtu. Dobriyal was earlier seen as Saif Ali Khan's sidekick in Omkara.

The film -- with no heroine and only two songs -- maintains its pace.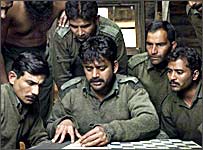 However, Sagar has taken some cinematic liberty in portraying the character of Pakistani human rights activist Jehangir, based on real life activist Asma Jahangir. 
She is shown to speak her mind and even challenge army officers in the film, which no civilian would have dared to do under the late Pakistan President Zia-ul-Haq's regime (1977-1988). Even the media would have to suffer the consequences if they dared write anything against the establishment.
Coming back to the film, all in all, 1971 is a commendable effort.
Rediff Rating: