| | |
| --- | --- |
| A still from Red. | |
| | |
| | |
| | |
| | |
| | |
| | |
Advertisement
March 09, 2007 14:42 IST


The movie starts okay.

Neil Oberoi (Aftab Shivdasani) is a dying man in urgent need of a heart transplant -- his has got a hole. Yeah, the transplant thing is a bit of a stretch, but wait, it just gets worse.

So anyway, Neil is cured when a donor finally turns up. So far so good.

Then Neil decides to find the identity of the donor in order to thank the family. Well, nothing wrong with that.

It's just when the doctor unethically reveals the name that the movie begins to spiral down.

Neil finds out that his heart donor is a certain Anuj Saxena (a non-entity in the movie), survived by his wife. Neil then predictably falls in love with the widow.

Images: Amrita hots it up in Red

Ok, so it's now a love story where the guy falls in love with the widow of his organ donor and she falls in love with him but doesn't know until the end, right?

Wrong.

Thankfully, though that angle gets resolved in the next 10 minutes, when Anahita (Celina Jaitley) confronts Neil when she realises he's stalking her. In his defense, Neil meekly says 'Main woh admi Hun jise Anuj ka dil mila.' ('I'm the man who got Anuj's heart.) Yes, that lame.

What follows is the so called 'dark side of love,' just vaguely connected to the first half of the movie -- making you wonder why the organ donation part was put in the movie in the first place. The rest of the movie is plain Sex. Murder. Sex. A Song. Police. More Sex. Then more Murder.

That's about it. There are no surprises.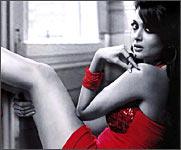 Vikram Bhatt's attempt at a different style of narrative and cinematography fails to deliver and ends up being cheesy. Water is a constant in all the scenes, and there is just too much play of shadows, lights and the colour red.
Images: Celina is ready for Red
As for the performances, the less said the better. Physically Aftab looks good but the same cannot be said of his role, which is half formed and very one-dimensional. It's the same for the actresses, Celina Jaitley and Amrita Arora. Woody performances and over the top hysterical screaming matches is about all we see from the girls. There is no chemistry between the lead characters.
Normally, Bhatt movies have a good musical score that makes an otherwise mediocre movie bearable. But here too, the music is dismal. Out of all the songs by Himesh Reshamiya, Ameen is the only one that can be recalled.
Altogether a mediocre attempt with nothing but hot scenes to reel the view in. Give this one a miss.
Rediff rating: