Home > Movies > Bollywood News

'My heart sank when Water lost'

March 06, 2007 16:19 IST


| | |
| --- | --- |
| Seema Biswas, David Hamilton, Deepa Mehta and John Abraham. | |
| | |
| | |
| | |
| | |
| | |
| | |
The Water gang might have lost out on the Oscar, but they believe it truly is an honour to be nominated, and present at the Oscar ceremony.
Here, Seema Biswas, who recently attended the 79th Annual Academy Awards in Los Angeles with the Water cast and crew, speaks about her experience of the ceremony and losing the Best Foreign Film Oscar to German film The Lives Of Others. Read on:
Before I left Mumbai I had to collect my visa. Since my visa had not come till the last day I myself went to collect it. It came on the day when I had to fly, February 21. When I went to the American Consulate, there were so many people who were wishing me luck for our movie. On the flight, people came up to me, spoke to me -- they actually recognised me.
We were put at the Crown Plaza hotel and later we stayed in the Four Seasons. The Water team did not have any party of their own, but we'd make it a point to meet everyday at lunch and discuss the previous day. We'd see lots of Hollywood actors in the lawn and cafeteria area.
When I reached the very first day, we had a welcome party thrown by the Canadian Consulate, as ours was an official entry from Canada. I gave about 20 interviews that day. There I met Laura Dern (Wild At Heart, Jurassic Park) and we spoke for one and a half hours. She was praising me a lot. She said it is 'an honour meeting you.' There were other Canadian actors too who came up to me and said that 'you made us cry.' Some said we have learnt a lot from you.
Then, there was a man who looked at me and wanted to say something. So I went up to him and he couldn't say a single word but started crying. As we were getting late and had to leave, John Abraham came to me and said lets leave. Looking at John this man started crying louder, and said, 'I am totally moved by your performance and the movie.'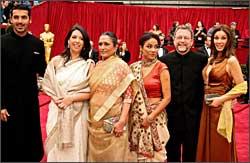 Before the Academy Award function there are get-togethers every day, where all the cast and crew of each nominated teams are introduced and given certificates. There was a symposium on one day where you are called on the stage and your movie clippings are shown on the screen. Academy people make this a 90 second clipping and it is so well made that you get to know the whole gist of the movie. Once your clipping is shown, there is an interactive session where the audience the academy people ask you questions.
They ask you anything and everything about the writing and shooting process. There are no artificial layers, its an honest and open discussion. It's a rare experience. It is at the Kodak theatre. We also had a photo session where we all had to click a snap in front of a huge Oscar statue.
For the Oscar award function, you get entry only through passes but you don't get many passes to enter; you get 2 passes each team. But Deepa wanted her whole cast to be present so she had somehow arranged for the passes.
On the D-day we were sent a stretch limousine. We all went together, Lisa Ray, John Abraham, Devyani Saltzman (Deepa's daughter), Deepa Mehta, David Hamlton and me. We got down and we walked the Red Carpet. It is very prestigious to walk the Red Carpet. Only those who are nominated, or the special guests, are allowed to walk that. It is just 50 steps on the red carpet but it took a lifetime to walk that. It actually took one and a half hours to walk. I was not nervous to walk as I had people around me whom I knew. People are in awe of it because I think the whole world is looking at you. I keep a low profile and am not that aware of all this, so I did not feel anything. Though I felt very proud. The best part was that all (celebrities) are treated equal. Just because they are Hollywood stars they are not treated differently. Everyone walks the same carpet. Nobody disturbs anybody. If you know a person you greet him, or else no one will call out to you. You have your privacy.
When you reach, there is one person who is in charge of you. He has 3 more subordinates and they take care of you totally, right from your food to fixing your interviews. It is well organised; nothing is chaotic. Everything is so systematically done you don't have time for yourself. The award function starts dot on time. Thirty minutes before the function, they start calling out the time. Just 5 minutes before time, people start rushing to their seats. I have heard that there is a lot of politics in there too, but I did not understand it. I thought it was very open and honest. There were many people who came and told us that we have a great chance of winning.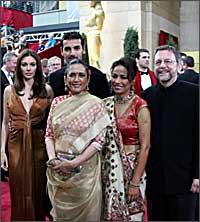 When our name was called out, my heart started beating louder and faster -- there was both happiness and fear. But when we lost it my heart sank. Even though we told each other 'its okay, at least we reached till here', 'it is an honour to be here' and all that but still I felt bad. But the good part was we lost to a good team. It was great that we were nominated among few of the finest movies.

Charlize Theron came up to me and said, 'you don't look like an actress. You are so ordinary and simple, but your performance was excellent.' A lot of people thought we would win but we lost. By the end of all this I gave more than a 100 interviews... I've lost count.

After the ceremony, there was an Oscar party, but I did not attend it as Deepa was not going. I was feeling bad so I stayed away; only Lisa attended that.

We had to go for the Canadian party, and I went there for just 5 minutes. I left Los Angeles on February 26, but was in the US meeting my friends.

I have got 2-3 offers there. I have brought back the scripts of two movies, a Canadian project and an LA project, but I haven't decided on any yet.

As told to Patcy N | Photographs: Getty Images