Advertisement
June 29, 2007 18:26 IST
Magic has no expiry date. Nor does it ever lose its touch.

That is what makes Dharmendra so timeless. The seventy plus actor, known for his devastating good looks, emotional demeanour and remarkable body of work, reminds us why he is so special.

There is a lot of actor in him left untapped. And unlike his previously embarrassing outings (Kis Kis Ki Kismat and Hum Kaun Hain?) which failed to assert so, Anil Sharma's Apne allows him to demonstrate just that.

There's also this curiosity factor of seeing the three Deols -- Dharmendra, Sunny and Bobby share screen space for the first time. One appreciates the delicate bonding between the genuinely warm-hearted Jats.

In essence, Apne is not so much a boxer's fairy tale, as it is a family kerchief caper that salutes the 'can do' spirit. Here's how:

Having been banned from the world of boxing on false doping charges, former Olympics [Images] silver medallist Baldev Singh Chaudhry (Dharmendra) retires to a life of haunting humiliation and growing resentment.

His hopes of seeing elder son, Angad (Sunny Deol) restore his lost honour are squashed, after the latter refuses to play the 'worthless' game. Going by the fate he meets in the ring, you can't really blame him for thinking so. Instead, at the risk of evoking his boxing-obsessed father's wrath, he throws himself in revolutionizing agricultural farming.

His kid brother Karan (Bobby Deol [Images]), partially handicapped post a childhood mishap, takes up music as a profession.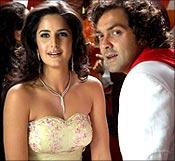 With neither son inclined to the sport to which he gave his all, Baldev becomes increasingly bitter. An ungrateful coaching experience (Aryan Vaid [Images]) shatters Baldev completely.

His break-down triggers something in Karan and his until now paralysed arm is miraculously healed. He resolves to fulfil his father's lifetime wish of becoming an international boxing champion.

After rigorous training, our Punjabi stallion is fit enough to break every rib his gloves face (including Vaid's). Now the only thing standing between Karan and a champion's belt is Luca Gracia (played by a super stiff Chris Anderson -- an African American with an Italian handle, how inventive is that?)

The Rocky-inspired match has a rather tragic outcome, leaving Angad with very little choice. The move is as ridiculous as Sunny battling out an armed force of 100 in Gadar. Here he challenges to take on a title holder with just a month's preparation. So much that even Dharmendra can't resist quipping: 'Boxers retire at your age.'

This segment of Apne heavily relies on Sylvester Stallone's [Images] Oscar-winning classic for moves, mock threats, punches, jibes and spirit. Which means clumsily picturised fights, tacky make-up, inelegant cussing in English (F-word inclusive), a lackluster audience carrying posters that read incorrectly spelled words (Luca Destroy Him, anyone?)

Ideally for Sunny, Apne should have come out a decade earlier when he was at his prime's peak. Here his worn out appearance and diminished vigour lessen the impact of his earnest performance. Even so, his vulnerability spontaneously surfaces in sequences where his father attacks him with acerbic sarcasm.

Brother Bobby shines in his part. Not only is he looking incredibly fresh, but is suitably understated and genial. With barely any lines to speak, he conveys volumes with reverence, determination and awe in his body language.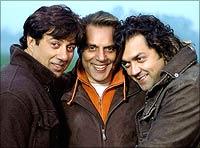 Definitely, it's Dharmendra's show all the way. Whether it is flirting with his wife (Kiron Kher playing the Punjaban wifey yet again), indulging his grandson, fooling around with his best buddy (a charismatic Victor Banerjee), bucking up his sons to victory or breaking down with a sense of utter failure, he portrays an underachiever with heart, humour and strength of character.

Another good thing is, unlike all the other unconvincingly goody-goody characters in this enterprise, Dharmendra's Baldev is the most believable. His weaknesses are conspicuous. For one, he can't help endangering his sons' lives, in order to feel vindicated. 

The ladies -- Shilpa Shetty [Images] and Katrina Kaif [Images], provide ample eye candy and shoulder to cry on to their stumbling beaus. Both actresses have enough screen presence not to face any problems doing that.

As much as you enjoy cinematographer Kabir Lal's palette of colours flushed on screen, capturing the best of Chandigarh and New York City, the editing (by Ashfaque Makrani) is strictly below par. With its lengthy narrative and excessive melodrama, Apne tends to drag miserably in parts.

Himesh Reshammiya's weepy title track, popping every two minutes, does not help either. His score is one of the weakest links in the movie.

Ultimately, it is an Anil Sharma film. Going by his past record (Tehelka, Hukumat, Gadar: Ek Prem Katha, The Hero: Love Story of a Spy), the man has an amazing appetite for kitsch and absurdities. The movie bears his stamp alright.
   
But despite all its glaring oddities and palpable flaws, Apne has its heart in place.

Rediff Rating: