Home > Movies > Reviews

AKS: Only for Himesh fans

Syed Firdaus Ashraf | June 29, 2007 16:17 IST


| | |
| --- | --- |
| Himesh Reshammiya and Riaa | |
| | |
| | |
| | |
| | |
| | |
| | |
Aa aa acting mein teri,
Jaan jaan jayengi jaan meri.
The rephrased lines from 36 China Town best describes Himesh Reshammiya's acting debut, Aap Kaa Surroor: The Moviee: The Real Luv Story.
Himesh's acting and the film's story is quite weak. Yet, AKS will work very well for audiences. Despite the film's shortcomings, it will not bore you.
Director Prashant Chadha has managed to balance the songs with the story, and also capture Germany [Images] beautifully.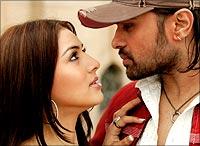 Himesh plays a rockstar in the film, who arrives in Germany for a concert. A chance meeting with Riaa Bakshi (Hansika Motwani [Images]), who is his event manager in Germany, results in love at first sight. There's no background to HR's life -- there's no reason why he fell in love with Riaa or why he was single all the while before he met Riaa.
To play spoilsport in their love story comes Ruby James (Mallika Sherawat [Images]) who has also fallen for Himesh. But of course, he's not interested in her.
The story goes that a television reporter is murdered in Himesh's room, and he gets arrested. Now, he has to prove his innocence to the world and to Riaa's father (Sachin Khedekar). If he cannot, Riaa will be married off to someone else.
The story is very ordinary. What saves it is the music. All the songs have been well-placed in the film, so that you never lose interest.
Hansika Motwani does not impress. Her emotions are restricted to excessive smiling or crying.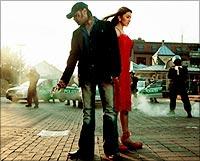 Himesh's sidekick Shravan does good work.
More screen time for Mallika would have made the film better. She rocks in Sholay's Mehbooba song.
Himesh is too stiff and needs to loosen up if he wants to continue acting. He has a good screen presence, but at times, looks too conscious in front of the camera.
Anyway, like Himesh promised in his interview, the reason for him not smiling is revealed in the course of the film.
If you are a Himesh fan, Aap Kaa Suroor is a must-watch. If not, avoid.
Rediff Rating:

Want to see this movie? Check out Rediff Movie Tickets!