| | |
| --- | --- |
| Himesh Reshammiya, Abhishek Bachchan | |
| | |
| | |
| | |
| | |
| | |
| | |
Advertisement
June 21, 2007
It's not about aesthetics, or critical preference. It's not about liking one film over the other. It's about how Jhoom Barabar Jhoom's failure is fantastic news for the Hindi film industry, in general.

And about how we should all pray that Himesh Reshammiya's film is a super-success.

Assuming you're not nodding in agreement just yet, allow me to make my case. Read on.

***

I have nothing personal against Yash Raj Films. They've made some fine movies over the years, Yash Chopra [Images] and son Adi have contributed immeasurably to Indian cinema, and it's commendable. It's also just turned into a big, flashy bar of soap.

The last watchable Yash Raj movie was Saathiya, Shaad Ali's warm, loyal remake of Mani Ratnam's Alaipaayuthe. This was back in 2002. Over the last five years, Bollywood's biggest banner has started taking the audience for granted, churning out stars, locales, cliche and camp. It's all merely packaging.

Save for Sanjay Gadhvi's unashamed Dhoom testosterone, the roster's been dismal.

Hum Tum, Veer-Zaara, Neal N Nikki, Salaam Namaste, Fanaa. Films without plots or soul. Then there are the fatally flawed Kabul Express and Bunty Aur Babli. What's the point of it all?

Money, of course.

Their camp has gotten stronger (and, appropriately, campier) and way richer. They are the guys who reportedly twist multiplex arms to extract higher ticket prices and allegedly force smaller filmmakers to shuffle release dates. And if rumours are to be believed, they don't pay their stars -- it's all about visibility, the stars gladly making a bundle hiking their stage and endorsement fees.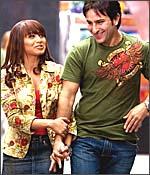 They are an influential media presence, and there are few film critics who will dare totally trash a Yash Raj film. The otherwise outspoken Mumbai film journalist circle, at a Yash Raj press screening, clears their throats with some discretion. No matter how the films do, they are labeled superhits -- yes, even Neal N Nikki [Images]. Please.
Upto a decade ago, crassness and melodrama used to be justified condescendingly as stuff that would work 'in the interiors.' Today, an SRK [Images]/Amitabh item song, a London [Images] backdrop, and crores spent on fashion over script, are justified as stuff that would work 'in the multiplexes.' Or worse yet, 'overseas.'
YR Films believe packaging is what our educated metropolitan youth and Indian Diaspora demand. So they shove the repetitive silliness down our throats, packing enough first-weekend shows to ensure some sort of profit.
Thankfully, the audience isn't biting. They've had enough. This year, Ta Ra Rum Pum [Images] and Jhoom Barabar Jhoom have been declared monstrosities. Too awful to watch, audiences have given the films a thumbs-down. Even the more 'diplomatic' critics haven't been able to find anything to praise.
Mr and Mr Chopra, sit up and take notice. You made Silsila, you made DDLJ. Work harder.
***
Now, why the Himesh love? And no, it's not just because I haven't shaved for a week.
I'm not a fan of the baseball-capped singer. I don't have any crazy expectations from Aap Ka Surroor: The Moviee: The Real Luv Story. The first time I heard the name, I winced -- now they're carrying the numerology superstition onto English, and its ridiculous. I mean, Moviee. The promos are almost smug in their insanity, with names like Ruby James (for Mallika Sherawat) and bizarre prison scenes. This one's going to be sheer madness -- and Himesh knows it.
But it's not for you, city reader.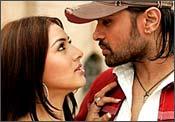 It's a film aiming at the auto-rickshawwallahs -- with a whole promo going blissfully over the top declaring that intention -- and at the janta theatres that burst into mad applause the minute the nasal voice screeches over the speakers. If you've never been there, it's a riot. Forget the Amitabhs and Akshays and those ubiquitous Khans, the crowds respond insanely as soon as a Himesh promo comes on.
Also, there is the matter of sheer bravado. The singer has often been dismissed as a two (dozen, at least) hit wonder, but there is a crazy consistency to his sound translating into success. After outselling the Khans at his stage shows across America, he's now put all his eggs in one basket. Some reports peg this as being Bollywood's costliest film. Even if that's a tall claim, the singer's backers have invested huge, and the film flopping could write off the whiny hit-maker for good.
Still, the point remains. Why the Himesh film? Why should we, in all consciousness, want a film to succeed while we imagine it'll be near-unwatchable? Sure, it could turn out fun, but odds are that it won't. Why should we want this Moviee to hit it big?
***
Because...
Because it's been a mad year, awful for the box office. Two high-profile Yash Raj Films have bombed. Amitabh Bachchan's [Images] had three of his career's best performances -- Eklavya, Nishabd and Cheeni Kum -- and only one of the three (CK) has managed to salvage its budget. The biggest hit of the year so far is Bheja Fry, a film costing Rs 55 lakhs going on to make about 7 crores.
Imagine then, a film coming out from a new banner, starring a new actor -- and trumping the industry.
There will be complete chaos. The star-system will be rattled, the producers will be shaken, distributors won't know what hit them and there will be complete unpredictability in the industry, giving independent cinema a tremendous boost -- for if no one knows what'll work, anything could!
Himesh has the opportunity to upset the Bollywood apple-cart. And that's a delicious thought.