Home > Movies > Reviews

Swami is touching

Tanveer Bookwala | June 08, 2007 12:53 IST



When a choreographer turns director, one expects to see a film with a lot of flashy dancing, fast music and item numbers reminiscent of a music video. But Ganesh Acharya's debut film defies the stereotype. His Swami is a simple story about regular middle class folk and their simple dreams and desires.

Amitabh [Images] Bacchan's baritone opens the film as he introduces us to Swami (Manoj Bajpai) a Maharashtrian Brahmin, who is a simple and compassionate man living in a small home in a village in South India. His world revolves around his wife Radha (Juhi Chawla [Images]) a South Indian, and they spend every waking minute keeping each other happy.

Swami has only one ambition in life -- to buy a rocking chair. Slapped as a kid when he sat on one that didn't belong to him, Swami yearns to know the feeling of owning one.

From there onwards, the chair is used as symbolism for countless emotions. As life moves on, the couple is blessed with a child. Radha nurtures a dream of sending her son to America for a brighter future after watching images of America on television. Soon, Swami gets a job in Mumbai and they move to the city of dreams.

Everything seems to be going great for the family. Swami does well at his job, the son gets admission in a good school and Radha couldn't be happier. But fate has other plans and soon their happy existence is shattered.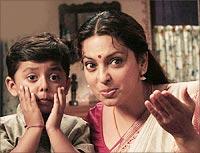 Acharya's first film shows a lot of good intent. His heart is in the right place. He could have made any kind of 'commercially viable' film but he chooses to tell a human story about the emotional journey of a simple man.
A special mention must be made to the background score (Nitin Arora, Sony Chandy), which uses a flute for the signature tune to perfection.
Acharya has succeeded in bringing the tale to life in a way that not only makes a point, but also involves the audience in the lives of the characters. Sadly, all the characters appear one dimensional, almost like the most flawless people in the world, which is quite uninteresting.
Manoj Bajpai [Images] and Juhi Chawla have always been good performers with the right scripts. Swami gives them the chance to be unconventional and subtle and they do not fail to deliver.
Bajpai is brilliant as the small town man who moves to the city and goes through the amazing journey of life with its ups and downs. His sincere portrayal of a regular middle class man will touch many hearts.
Juhi, on the other hand, is lovely; the epitome of caring lover, devoted wife and dedicated mother. She knows just how hard to tug the heartstrings without becoming exaggerated or seeming fake. Her smile and laughter are still as infectious as ever.
The child artist playing the couple's son (Siddhartha) is also very good and is responsible for quite a few of the touching moments in the film.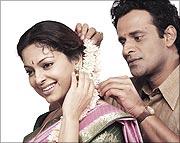 But good performances alone cannot save a film. The direction and cinematography are average at best and the film has its fair share of problems. The characters, story and situations are overtly sugary and simple, almost completely without any kind of dramatic conflict, making the film drag on like a soap opera on happy pills.
Also, the emotional content seems dated with lines like 'Tumhe apni ma ki kasam' which do not work in contemporary cinema today. To make matters worse, there is a Sardarji-South Indian friendship forced into the storyline, in an already dragging second half that really tests the viewer's patience. In fact, the movie can easily trim 20 minutes in the second half.
All in all, Swami is a genuine attempt at a sweet and simple story that has its heart in the right place and although it may not cater to all and sundry, there is a lesson about life in there for everyone.
Rediff Rating:

Want to see this movie? Check out Rediff Movie Tickets!