Home > Movies > Reviews

Red Swast-eek!

Tanveer Bookwala | June 08, 2007 12:29 IST



Vinod Pande has sinned.

If walking around in one's underwear and babbling unintelligible lines is Pande's idea of mature cinema, then he is sadly mistaken.

Red Swastika is one of the worst pieces of exploitation cinema that is neither grind house nor art house. 

Smita (credited as Maneka Chopra) is a serial killer on the loose. She seduces men and then kills them brutally; her signature, a red Swastika drawn on the victims forehead in their own blood.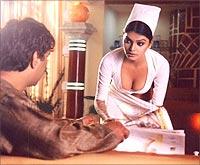 Just before Smita kills, she anonymously calls the one woman she admires, Sarika [Images] (Deepshika) the editor of a popular magazine. Smita's agenda also includes caring for an invisible child, finding true love, speaking painfully slowly and getting her articles printed in the local Cosmo.
Oh yes, amidst all this, she does find time to strut around in skimpy red lingerie that she is holding up with pure will power.
Her killing spree is investigated by a DSP (Harsha Chayya) and his incompetent associate (Raj Khan), who spends a night with the killer and doesn't recognise her even after he has commissioned her police sketch and put it up all around the city.
The film drags on endlessly providing unconditional crass titillation and unintentional laughs. Eventually, the police and Sarika get close to the killer in a terribly executed climax that tries hard to justify the killer's 'social' motive.
Pande, who gave us the controversial Sins earlier, has gone totally wrong with this one. The actors are terribly miscast. The styling is smudgy. The make-up is kitschy and the production design (Harshad Kulkarni) looks inspired from the disco generation.
Surprisingly, even the cinematography (Rakesh Kumar), which is most vital for an erotic thriller, is inconsistent, as most shots do not even seem to be colour corrected. The love-making scene, however, has been shot aesthetically. The music (Shamir Tandon) doesn't deserve a mention.
Red Swastika is loosely adapted from the film, I Spit On Your Grave; its poster is a direct lift from the original.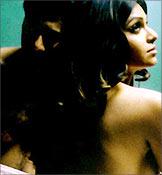 Pande and his team of writers (Preeti Koppikar and Prerna Agarwal) adapt what could have been an interesting premise but mess it up with a sloppy screenplay and mediocre direction that is a mere excuse to exhibit Sheryln / Mona / Menaka Chopra's anatomy.
Red Swastika is violent, gory and crass in most parts. Sheryln Chopra should take acting lessons and realise that her perfectly shaped anatomy will only take her this far in Bollywood.
The film, in which sexist subjugation is countered with a shiny knife and Swastika art, falls flat on its face whilst trying to provide an estrogen-powered slice of sadistic pie in a perverted male dominated world.
Red Swastika is a film that will never be acknowledged as a serious piece of filmmaking.
Rediff Rating:

Want to see this movie? Check out Rediff Movie Tickets!