Home > Movies > Interviews

The Rediff Interview / Manoj Bajpai

'You can feel the rhythm in this movie'

June 05, 2007

After a long time recently we watched Manoj Bajpai in 1971. The actor has been away from the limelight for long now. This Friday sees the release of Swami, Ganesh Acharya's directorial debut that also stars Juhi Chawla. Bajpai talks to Patcy N about his lack of movies, and the different movies that will release this year. 

Tell us about your character in Swami.

In Swami, I play a simple innocent South Indian character whose name is Swami. Juhi Chawla [Images] plays my wife. It's a love story and a tribute to middle class families. They live their life for small things and small happiness. There is not much drama, but there are emotions. It is a unique love story between a husband and wife. They are both from different states. This is actually Ganesh Acharya's personal journey, and he has put in moments and incidents from his life. Ganesh himself says that he has not directed the movie, but choreographed the movie. You can actually feel the rhythm in this movie.

You mostly play very serious characters. How do you manage to play them differently?

I don't think I play only serious characters. In Dil Pe Mat Le Yaar, I had a comic character; Bhiku Mhatre (Satya) was full of life; Kaun was loud and funny. I am serious, but only about my work and the work that I choose. When it comes to saying no to anybody, I am very straightforward. No force in this world can stop me.

About this character of Swami, he doesn't have any grudge against anybody. He is very down to earth, and a very thankful person to all those who do anything for him. I myself am also a very simple person and stayed in a very simple background. I have come from a village, and I have seen such people, and I don't have to go far to search for such a character: My father is a very simple and harmless person, in love with his own wife.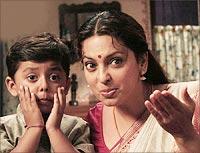 How was the chemistry of working with Juhi Chawla?
Juhi is a professional actress, who has worked in so many films. So I got to learn a lot of things from her. I like working with her. She has been in this field even before me. She works on small nuances. I personally feel she is a very good actress.
Your character in the film ages from 30 to 60 in the movie...
It was not difficult to play the character, as I have seen my father grow.  And I don't think I have played many years of experience, but I have played a growing life. At 50-60, people either retire or they start falling sick, but Swami is a person who will always remain strong. He has lots of expectations. He wants to fulfil his dreams and is very honest. First you play a character, then you play the age.
Despite coming from a choreographer, there are no songs and dances in this film?
There is no song picturised on us, but there are background songs. There is no choreographed moment in this film, and that is what indicates how much this director is sincere to his own story. Song and dance is his forte, but still he feels that having a song will damage his storytelling. This type of conviction and sincerity is rare to find in this industry. We agreed on doing this film because of his conviction and sincerity.
Why did you stay away from the big screen for so long?
This will keep happening with me, because I like to do roles that I like. I don't like to work. I am not helpless without work. Work is an obsession for me. I was happy doing theatre and I came here basically to do work that I would love to do, that would give me satisfaction. In theatre there is no money, and it was difficult for day-to-day living. This was the only reason for me to come to the big screen.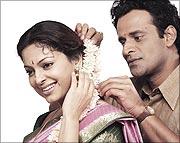 How do you select your role?
Every story tells something new and different. If it fails to deliver, there is no harm but it should try to say something new. Or there should be some new way of saying something. There has to be some newness in the story, or at least some aspect of the movie. I get bored if the story is told in the same way all the time. I get bored easily.
I myself don't watch the same type of movies. My exposure to films has been big and my journey has been bigger. I have read a lot, I have done a lot, I have seen a lot. I never sat idle at one place; I kept on practising. For me, working means not only working in films but doing any household chore is also work for me. When I am watching something, that is work for me.
What do you do when you are not shooting?
I watch movies. I watch all kinds of world cinema. I love newspapers and as I can afford them I get lots of newspapers and I literally lick all of them. I try to educate myself in social, political, financial and spiritual news in the papers, so that I am not away from the society. Because of that when I act, I can see everything in bigger perspective.
Apart from Swami what are the other projects in hand?
There is Nanda Anand's Return to Rajapur where I play a Prince from Rajasthan who gets attracted to a married American. It's a unique kind of a love story where they don't even touch each other. It's made by an American independent filmmaker; these are the people who make a movie with their own money and then try to sell it. I don't know when they are going to release it.
Then there is another independent project, Rajeev Virani's Whisperers, that also stars Rahul Bose [Images], and should be releasing soon in India. Then there is a movie called 90 minutes by Padmini Kapilla, where I play a football coach. I am also going to work in an E Niwas film, Nilami.
How did you get the Return from Rajapur and Whisperers?
I get lot of offers but these two I liked so I took them up. Whisperers I got maybe because the director is from Mumbai. It's a psychological thriller. Its about the rise and fall of a person, and what he goes through during this period. It is like looking into the mirror and seeing the real you. 
What do you have to say about your soured relationship with Ram Gopal Varma?
It was very little good and lots bad. And I would not want to say anything more than this.
Your biggest break Satya, was under his banner.
No, my biggest break was Bandit Queen because of Shekhar Kapur and then Mahesh Bhatt's Tamanna. Ramu also gave me a good movie but my personal experience with him was not all that good. My end with him was disappointing. I have lost a lot in the process, but when your self-respect is at stake, it's better you leave that place.