Home > Movies > Interviews

The Rediff Interview / Anish Kuruvilla, director

Digital confessions, to be released online

June 04, 2007


| | |
| --- | --- |
| A placard promoting Anish''s film. | |
| | |
| | |
| | |
| | |
| | |
| | |
Anish Kuruvilla, who began his career as an associate of Mani Shankar and was associated with filmmaker Sekhar Kammula (Dollar Dreams, Anand, Godavari) since 1999, has turned director with the Telugu film Naa Video Diary (Confessions of a Filmmaker in English).
Shot on high definition digital camera, this take on Telugu cinema throws light on some of the negative things happening in the industry, which is nothing new. However, what is novel about Naa Video Diary is that it dares call a spade a spade.
Anish has always felt uncomfortable with Telugu cinema, which he terms as "a closed society, a society which controls what it shows to the public, a media which doesn't shed true light on reality."
Now with his debut, he asks the folks in the industry to make themselves more accountable to the general public and stop living in their make believe reality.
Radhika Rajamani caught up with the daring filmmaker to talk about his pet project which he wrote, shot, produced and directed. Excerpts:
What triggered the idea to make this film?
I have closely watched how films are made, shot and released with all kinds of pressures -- star dates, production hassles in raising money and so on. I also felt an angst and repressed anger. People have had bad experiences but will never express them publicly. So I felt this was an opportunity to represent one and every one.
In the Telugu industry, an actor and his dates are sought first and the story is written to suit him and his image. There is no attempt or desire to do socially relevant and meaningful films amidst stars/directors. Lots of people (including me) feel that Telugu cinema is not living up to its expectations. While the state is progressing (it is emerging as an IT hub), its cinema is lagging behind.
There was a need to empower youngsters to go and speak their mind. Young filmmakers are generally caught up with their first break. They want to get a star so they wait to get him. On the contrary, I feel that filmmakers should have the story first and not the role for the star.
Why did you shoot the film on digital camera? Is it because of the cost factor?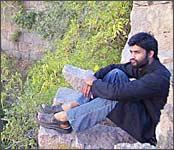 It is because of the demands of the story. Actually I used a high-definition camera through which I got crystal clear images and downgraded it, saturated and messed it up to get an amateurish look.
Were you inspired by Abbas Kiarostami's Ten, as it too was shot on digital camera?
I saw Ten before shooting the film. Perhaps there is a hangover. I also remember reading Kiarostami's interview on the digital revolution. I believe in digital technology. In fact I started with a blog where I wrote what I felt about Telugu cinema.
I started getting responses from readers, which prompted me to make the movie. In fact, the trailers of the film were shown on Youtube, and had 30,000 hits. Then I used a digital projector to project the film. I am working towards a release on the Internet.
Would you consider making this film as pure self-indulgence?
In some ways, yes. Every cinema is. I can't draw a line. If a director is not self-indulgent how will he get his personality across?
It is a daring attempt no doubt, but one gets the impression that it is slightly lop-sided. Why?
The film was meant to be dark. It is also inspired by Quentin Tarantino's movies. The character was depressed and psychotic and therefore it had to be 'noirish'. Since the character is psychotic, I had to justify the character and therefore it may seem negative and unbalanced.
You have taken digs at the mainstream industry and its heroes. Was it a deliberate decision? Didn't you feel as an upcoming filmmaker this is quite a dangerous path to tread on?
Let us treat a film as that only and not take it personally. I knew of the repercussions but I wanted to see how far I could go. In time people will look at it as a film a guy made.
Did you make the film more out of frustration as one gets the feeling that the director in the film is quite disgusted at the state of things in cinema?
I would say frustration is a more negative word. I prefer to use the word anger. I thought, let me represent the anger.

How did you coin some of the slogans (on placards) used in the film?
These slogans are the pillars of the film. When I thought of what I hoped to spread through the movie these came to mind.
How did you decide to cast Kamal Kamaraju? Is it because of the rapport you had with him while shooting Godavari (as he was the second lead)?
Kamal was my first and only choice. I wanted an actor who I could easily mould. Kamal was one with no baggage and with the evident talent and look. He worked hard for the role.
]Why did you two versions of the film (English and Telugu)?
I started shooting the film in English as I had written it in English. Mid-way I realised it was a mistake to do so. As it deals with Telugu cinema, it should be in Telugu. So we developed it in Telugu and shot it. I am more attached to the Telugu version.
How are you going to market the film?
It will not get a commercial release as it has to be cleared by the censor board. It is evident it will not be cleared. If every artist, novelist exhibits his/her work to a censor board can you imagine where art will be? It's only films which pass through censorship.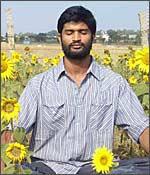 I believe in rating (depending on the content for individuals above and below a certain age group).
Regarding the market I have got a number of enquiries. The DVD will be out soon and as I said earlier, I am thinking of exploiting the Internet movie market and releasing the movie by next month.
An American watches a movie on the Internet every other day. Indians can do so too (particularly the Telugu-speaking). I plan to send it to some festivals with focus on smaller festivals with Asian content. Because of its content, I have to be selective in sending it to festivals.
Do you think this film will inspire more such films?
My aim is to tell people that it is profitable to have an Internet release. If it can be done then I have proven myself. I would have to publicise the movie through chain emails, shops in the US and websites. Thanks to my blog, I have a growing community of people and they will hopefully, spread the word across.
What is your next project?
My next film will deal with the theme of nostalgia. It will be a more positive film and not an abstract one. Seems like it will be in Hindi right now. I haven't yet finished writing the script. I am hoping Naa Video Diary makes it presence felt as it will make life easier for me.