| | |
| --- | --- |
| Ganesh Acharya | |
| | |
| | |
| | |
| | |
| | |
| | |
Advertisement
June 04, 2007 12:51 IST


He started his own dance group at the young age of 12, became a choreographer at 19 and worked in his first film, Anaam, at 21.

That's choreographer-turned-film director, Ganesh Acharya, for you. But even though he tasted success at a young age, Ganesh had to struggle a lot in the film industry.

His father, a famous dancer, passed away when Ganesh was 10, which plunged the family into a financial crisis. Forced to give up his studies, Ganesh learnt dancing from his sister.

He trained hard and later assisted famous choreographer Kamalji, until he passed away. Ganesh was 12 years old then.

A big fan of Govinda, Ganesh got his big break thanks to this actor. He has choreographed Govinda in almost all his films. In a way, Govinda was his mentor. He also sang and featured in an album, which flopped. But that did not stop Ganesh from his first love -- choreography.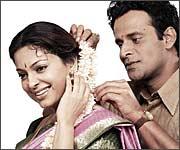 Now, Ganesh has joined the big league. This year alone, he has choreographed five big films -- Rang De Basanti [Images], Phir Hera Pheri, Golmaal, Omkara [Images] and Lage Raho Munnabhai [Images].
Next, Ganesh decided to make a foray in film direction. His first film Swami, which is also produced and written by him, stars Manoj Bajpai and Juhi Chawla [Images].
What is surprising though, is that his new film does not have any song and dance.
Ganesh claims he wrote the script with Juhi in mind. By the time he was done with the script, he knew Bajpai would suit the character of a Maharashtrian.
"When I narrated the script to Manoj, he had tears in his eyes. Juhi too felt the same way after reading it," Ganesh says. "But it is not a sad movie and has that Malgudi Days effect."
The film is now ready for release, and will be out on June 8. Ganesh says that he is awaiting the response to the film before deciding on his next. "I have another script in hand," he says. "It is based on dance, and is totally commercial."
Asked why he turned to filmmaking, he says, "Everybody dreams of excelling in life. I am still learning. I always thought of directing but did not want someone else to produce it. It would mean making compromises and I did not want that. There are certain things in Swami which resemble my life. The common man will identify with it."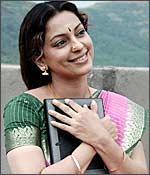 Swami has instances of all the people whom Ganesh loved and lost like his mother's sister, his dance teacher Kamalji, and his father.
Ask him about his favourite dancers and Govinda tops his list. From the heroines, his favourite is Madhuri Dixit [Images].
"Akshay Kumar [Images], Hrithik Roshan [Images], Salman Khan [Images] and Shahid Kapur are also good. After Govinda, I am most comfortable with Akshay. Among the actresses, after Madhuri, the best dancers are Shilpa Shetty [Images], Karisma Kapoor and Raveena Tandon [Images]," he signs off.