Home > Movies > Reviews

Very foolish, and that's final

Tanveer Bookwala | June 01, 2007 17:41 IST


| | |
| --- | --- |
| Shahid Kapur | |
| | |
| | |
| | |
| | |
| | |
| | |
Director Ahmed Khan's second outing (after Lakeer) Fool N Final promises a lot of Stealin' Stones and Breakin Bones; what it doesn't tell you is that it is also about your brain being numb and assuming the audiences are completely dumb.
In this day and age of innovative storylines and novel scripts comes the same ol' crap in the name of comedy. Fool N Final is a film about boxing, diamonds, comic gangsters pretending to be serious gangsters, a Malbari who can drive a fast car, a Bihari who can't and a rather hungry dog that will swallow anything.
The story revolves around a diamond heist that takes place in the most predictable and uninteresting way. Rocky (Chunky Pandey [Images]) steals a diamond in Mumbai for his London based Don-Uncle, Choksey (Gulshan Grover) who wants to sell it to his partner-in-crime, Lalvani (Asrani). Raja (Shahid Kapur), Tina (Ayesha Takia) and Choubey (Paresh Rawal) are small time thieves who get involved with another big baddie Dubai Don, Moscow Chikna (Arbaaz Khan [Images]) who gets them to steal the diamond from Choksey and Co.
If so many characters are not confusing enough, we have parallel story lines about Luckee (Vivek Oberoi [Images]) and Bob (Suresh Menon) who own a game parlour in Dubai and also promote new fighters who want to take part in illegal boxing matches in Dubai and 'earth-shattering' Munna (Sunny Deol), a messiah who saves a damsel in distress Payal (Sameera Reddy [Images]) and punches everything in sight.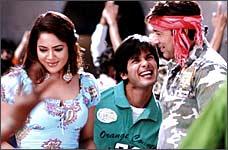 And that's not all folks. There is yet another Don J D (Zakir Hussain), who holds illegal boxing matches. Also thrown in for good measure is a terribly jaded Jackie Shroff playing Gun master G9.
As with any recent Nadiadwala production, this one also has pointless hummers and bikes racing through the streets of Dubai, extras dancing to random item-like songs, desert sequences and lavishly mounted fight sequences and stunts that really serve no purpose to the film's almost non-existent story.
The problem with Fool N Final is that it tries to be a 'wholesome' masala movie -- nothing wrong with that, but here, Ahmed Khan and his team of writers (Umesh Shukla and Abbas Hierapurwala)  are trying to cater to every audience and throw in every genre of cinema into this mish-mash of half a dozen dudes.
As far as performances go, Paresh Rawal has the few good lines that will evoke guffaws. Johnny Lever, back after a hiatus, is loud and jarring. Zakir Husain looks as though he's walked off the Sarkar set, terribly typecast. Arbaaz Khan should quit trying.
Sunny rightfully said recently that he will only work in his home productions and do creative work. In this film, all he does is the standard 'dishoom-dishoom.'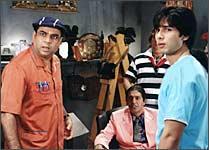 Shahid is competent; Vivek does what's asked while Ayesha gets no scope. Sameera is barely there in a blink-and-miss role.
I have no idea what prompted Om Puri and Sharmila Tagore to accept such mediocre roles. Jackie looks haggard; ditto for Chunky. Gulshan and Asrani are mere fillers.
Cinematography is interesting only during the fight sequences. Himesh Reshammiya has missed the bus with this one and the songs are stale and uninspiring.
Ahmed Khan had a good cast and a magnanimous producer but he seems to have messed it up.
The movie is completely foolish, and that's final.
Rediff Rating:

Want to see this movie? Check out Rediff Movie Tickets!