Home > Movies > Interviews

The Rediff Interview / Brinda, choreographer

'Rajni sir has excellent style'

June 01, 2007


| | |
| --- | --- |
| Brinda | |
| | |
| | |
| | |
| | |
| | |
| | |
Ace choreographer Brinda has had plum assignments in the last few years, including Mani Ratnam's Guru, Yuva and Kannathil Muthamittal. Her latest film, Sivaji, The Boss, has got Tamil superstar Rajnikanth dancing to her tune.
The choreographer who has worked in Tamil, Telugu and Hindi cinema talks to Radhika Rajamani about the joys of working with Rajni.
Which song have you choreographed in Sivaji?
It's the introductory song Balleilakha. It's a typical Rajni sir song. He's powerful man but there's a lot of nativity in this song. There are more folk elements of Tamil Nadu here.
How is Rajni as a dancer?
He has got an excellent style. Balleilakha is fast-paced and I was worried whether he would be able to do it. But Rajni sir did not mind the fast pace; he picked it up very fast. He is dedicated and very punctual on the sets. Once he is on the sets, he will not leave until it is time to do so. He does not see the way he dances in the monitor. He asks me if he is getting it right or sometimes, checks with the assistant.
Where is the song shot? What is the backdrop like?
We shot at Wai, a hill station near Pune, as it is difficult to shoot a song with Rajni sir in Tamil Nadu (due to his huge fan following). The mountains and water formed a good backdrop. The location was chosen by director Shankar. The song required a crowd of 500 people. We shot it over eight days, as it took time in getting such a large crowd ready. Also, since it was winter, it would get dark early.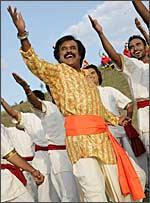 Does Shriya feature in this song?
Nayantara features in this song in the beginning. She is also good.
What are the costumes like?
The costumes are very Indian.
How is the experience of working with Rajni over the years?
I have learnt a lot from him. He is very down-to-earth. Even in the days when I was an assistant to my Guru Raghu, Rajni sir would not treat me as an assistant. He always treated me as a professional. After I turned choreographer, he does what I ask him to do and never interferes.
Are you looking forward to seeing the dance on screen?
I am scared to watch it on screen. Every song is an exam for me. Also, all the top choreographers like Prabhudeva, Raju Sundaram and Lawrence are working in Sivaji. So one has to match up with them.
Both my husband and I are big fans of Rajni sir but my husband will watch it on screen and give me his critical comments. I will be happy if the audience reacts well.