July 31, 2007 14:52 IST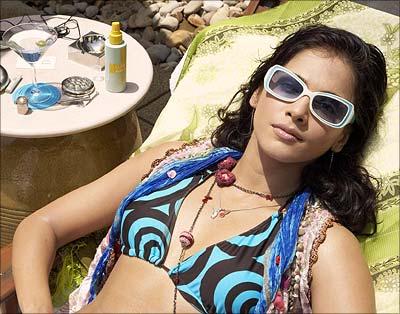 We asked readers to tell us if they had grown up or studied with movie or television celebrities. And we got a great response!
Sharing her experiences is Monika Gupte, who studied with Isha Koppikar [Images] in the tenth standard.
Also read: I studied with...
Mallika Sherawat
Sushmita Sen
Vidya Balan
Madhu Sapre
Shamita Shetty
Aishwarya Rai
Celina Jaitley
Shah Rukh Khan
Sakshi Tanwar
Shahid Kapoor
Isha Koppikar was my friend when we used to go together for private tuitions at Shivaji Park, Bombay, when we were in the tenth standard.
She was a very bright girl, intelligent, smart and grasped everything that was taught in no time. She was quite plump then.
We used to have a nice time. She would come to my place and loved the Kanda Poha my granny used to make.
She was very jovial and cheerful. She would wear mostly Western outfits, which consisted of mainly short skirts that suited her very well.
I have been to her house too and met her family. Her grandmom was a very sweet lady. We lost touch after we went to different colleges.
She was a very straight-forward girl and ambitious, though I never knew she will reach such great heights. The last I heard from her was when she told me about a photo shoot with ace photographer Gautam Rajadhyaksha for the Colgate and Lakme ads.
I'm very happy for her and wish her all the best for her future.
Grew up with a star in the same neighbourhood? Studied with them in school? Had a star friend in college? Hung out at the canteen together? Bunked classes? Maybe even hit on the same pretty people?
What were they like? What did you think of them then? Did you ever foresee their success?
We look forward to hearing from you!