Home > Movies > Reviews

Chiranjeevi rocks in Shankardada

G P Aditya Vardhan | July 27, 2007 19:29 IST



Shankardada Zindabad and ATM are back again and this time, they are here to spread Gandhigiri.

The Telugu remake of Sanjay Dutt's [Images] Lage Raho Munnabhai is a frame-to-frame copy, peppered with megastar Chiranjeevi's [Images] brand of humour. The film has style, comedy, colourful dance sequences and megastar's trademark gait.

This is what his fans want, and Chiranjeevi has given it in truckloads. And at the helm of all the fun is Prabhudeva, who directs it well.

The film belongs to Chiranjeevi. He is brilliant, in the acting and dancing department.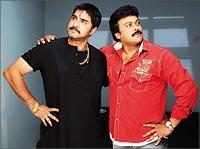 The cast includes surprises like Raviteja, Allu Arjun and Nagababu in a song sequence, with Pawan Kalyan in a pivotal guest role. It is also refreshing to see veterans like Kantha Rao, Bhanu Prakash and Sachu as the old friends of Janavi's uncle.
The songs are choreographed very well and Devisriprasad's music is okay. Dialogues, however, lacks punch.
Overall, a very good entertainer and paisa vasool.
Rediff Rating:

Want to see this movie? Check out Rediff Movie Tickets!