| | |
| --- | --- |
| A still from Bow Barracks Forever! | |
| | |
| | |
| | |
| | |
| | |
| | |
Advertisement
July 27, 2007 18:01 IST


'What are you doing, man?'
'You're such a bugger, man!'
'I'm tired of living in this bloody building, man!'

In Anjan Dutt's Bow Barracks Forever, 'man' is a noun, exclamation, exultation and abuse.

The intent may be to convey how an Anglo Indian community converses in a in a run down paada (dwelling), Bow Barracks situated in a claustrophobic locality of Kolkata. The effect, however, is seriously taxing on the nerves.

Very few filmmakers have opted for community-specific scripts like Vijaya Mehta's Pestonjee or Shyam Benegal's Trikaal. But while these films were a journey in a way of life and thought, Bow Barracks Forever!, inspired by a true story, merely skims past the outrageous lives of its struggling albeit stereotyped tenants.

There's Peter-The Cheater (Victor Banerjee) a bermuda-clad, beret-sporting dupe who successfully passes off his junk as antique stuff to unsuspecting bakras.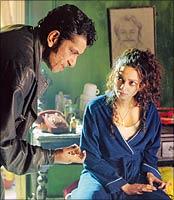 Next, we have Emily Lobo (Lilette Dubey sleep walks as the no-nonsense but kindly 'Marmee' types yet again) -- a wine and cake seller, desperately aspiring to leave her wretched home and fly to her indifferent son in London [Images].

Her scrawny good-for-nothing son Bradley (Clayton Rodgers, lacks screen presence tremendously) is busy lending a crying shoulder to his domestic abuse victim neighbour Anne (Neha Dubey). The comforting inevitably leads to awfully picturised sex scenes.

An awkward Rodgers looks noticeably distressed showing off his butt, adding to our misery of enduring the entire sequence. 
More adultery follows when the voluptuous Roza (Moon Moon Sen shams and pouts in turns) looks outside home for sexual gratification in her insurance agent. Having said that, seeing Moon Moon Sen in lingerie with a nearly naked stout guy in turquoise blue briefs is not a pleasant sight.

In between, there's a deaf guy and his strict wife always admonishing his insolent, philandering daughter, a Muslim family forever at the receiving end of other tenant's barks, a schoolteacher with a creepy sense of timing and a handful of reformers who want to gather repair money to save the dilapidated Bow Barracks from intimidating thugs.

Oh and singer Ushu Uthup makes a guest appearance too.

And finally then there are the cuss words. Beep this. Beep that. Funny thing is, the makers forget every now and then to filter the F-words. So don't be surprised if now you hear them and now you don't.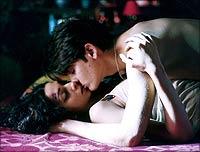 Dutt sidesteps content to make way for pretentious realism with the objective of stunning the viewer rather than relate with it. 

The episodes that lead up to Christmas draw a suffocating picture of these folks with, at the same time, a submissive attitude that accepts their fate, nonetheless.

Bow Barracks Forever! never aims to be a triumph of spirit brand of cinema. It's unapologetically dark and even when respite comes at an offbeat price.

As effective as that sounds, the film is essentially tepid and boring. The performances don't touch the skin of the men and women they play. The actors seem alienated from the very world they portray making their act look like, well, an act. Except an intense Neha Dubey and gregarious Victor Banerjee (though he tends to go overboard a bit), the cast fails to make an impression.
The cinematographer (Tanmoy Chakraborty) and composer (Neel and Anjan Dutt churn a couple of breezy tunes including the title track) fair much better though.

The red-bricked walls and dingy lanes speak a language of their own in Chakraborty's imaginative angles. At the same time, he articulates the despondency in the messy rooms of every protagonist, reflecting the disorganised state of their own existence.

As you walk out the theatre, you wonder what does the film really say? It doesn't really answer any questions it raises or solve any problems. Until when it does, in a manner so implausible, it loses credibility. All Bow Barracks Forever! does is add 'man', 'bugger' and 'bloody' to your vocabulary.

Rediff Rating: