July 26, 2007 13:27 IST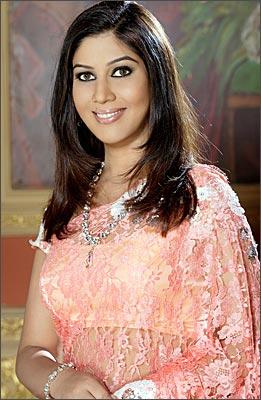 We asked readers to tell us if they had grown up or studied with movie or television celebrities. And we got a great response!

Sharing his experiences is Hari Narayanan who briefly worked with Sakshi Tanwar [Images].

Also read: I studied with...


In 1994, Auto-Expo got an entry at Pragati Maidan, New Delhi, for displaying new models of vehicles, accessories and different automobile products.

I was representing my company's stall, for its greases and lubricants division. We engaged a reception officer for managing the stall for about 10 days.

I was surprised at the skill with which she (the reception officer) was tackling visitors and the way she spoke in the Bhojpuri accent with one of our managers. I asked her if she was an actress. She said yes.

She told me she was pursuing her studies and also acting in a Hindi comedy show. I did not ask which serial it was, as I do not watch serials. But I could see her inborn talent for acting.

One day, I took my wife and son to our stall, and introduced her.

After a couple of years, my wife told me that the girl I introduced to her at the Auto-Expo stall has become a leading actress in the show, Kahaani Ghar Ghar Kii. She was the lead actress.

I do not watch Hindi serials, as my family watches either Malayalam channels or cartoon channels. But one day, I watched the show and it was confirmed that the lady in question was Sakshi Tanwar. The news thrilled me, so I immediately called my then manager Mr Nair.

We were delighted to know about Sakshi's achievements, and hope to watch her in leading roles in movies too.

Grew up with a star in the same neighbourhood? Studied with them in school? Had a star friend in college? Hung out at the canteen together? Bunked classes? Maybe even hit on the same pretty people?

What were they like? What did you think of them then? Did you ever foresee their success?

We look forward to hearing from you!