Home > Movies > Southern Spice

Rajni showers praises on P Vasu's son

Shobha Warrier | July 24, 2007 16:44 IST


| | |
| --- | --- |
| Rajnikanth with Shakthi | |
| | |
| | |
| | |
| | |
| | |
| | |
Rajnikanth may be a superstar but he follows Tamil and Kannada cinema diligently. He makes it a point to watch the movies of all promising young actors and directors. And if he likes the film, he is very magnanimous in showering his praises.
He appreciated Venkat Prabhu on his successful debut, Chennai 600028, and actor Karthi on his astounding performance in Paruthiveeran.
Now, it is the turn of debutant actor Shakthi, director P Vasu's son. The friendship between Rajnikanth [Images] and P Vasu started long ago when Vasu directed him in Panakkaran, Mannan, Uzhaippali and the huge hit Chandramukhi, which even after two years is still running in a Chennai theatre.
Vasu is now making a film called Thottal Poo Malarum, starring Shakthi. The young actor is not new to acting; he has acted as a child in his father's films like Chinna Thambi, Nadigan and Idhu Namma Boomi. Because of the director's closeness to senior actors like Kamal Haasan [Images], Rajnikanth, Prabhu and Satyaraj, all these people were there to bless him.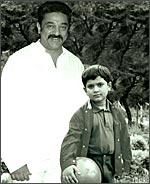 Rajni had said, 'He (P Vasu) gave me a break in each film that he directed. But compared to the 1960s and 1970s, it is easy to enter the movies today. But it is difficult to sustain. Shakthi must be happy to have P Vasu as his father. But he needs to work hard and I know Shakthi will work hard and make us all happy.'
Rajni claimed that before he saw the film, he felt very tense inside for the first time in his life. He had never felt it before, watching his own films.
After the screening of Thottal Poo Malarum, he said, "I didn't know how the film would be and what I would tell them if it was not good. But I am happy to say the film is excellent. Shakthi has done a tremendous job, an amazing job. He will be a good competitor to the current crop of youngsters."