Home > Movies > Reviews

Heyy Babyy is peppy, full of spunk

Sukanya Verma | July 24, 2007 13:01 IST



Three Men and a baby! Nah, not the Hollywood flick. This is what Sajid Khan's Heyy Babyy is all about.

Starring Akshay Kumar [Images], Fardeen Khan [Images], Riteish Deshmukh, Vidya Balan [Images] and Boman Irani, the comedy is rumoured to be loosely inspired from Leonard Nimoy's (the man who played Spock on Star Trek) 1987 hit.

But that's another story. For now, let's see if the soundtrack helmed by the Jhoom troika -- Shankar, Ehsaan and Loy is any good.
 
Snappy and snazzy, the title song grooves about in a carefree manner reflecting the living-in-the-moment attitude of its protagonists. Shankar-Ehsaan-Loy's racy composition is adequately backed with a pumped up chorus.

The show stopper's true USP, however, is that it's picturised on 20 actresses (including Malaika Arora [Images], Shamita Shetty [Images], Dia Mirza and Amisha Patel [Images]) strutting their stuff along with Heyy Babyy's frolicsome threesome. The Big 'O' remix by DJ Whosane injects it with romping power and crazy rush enough to get the adrenalin pumping.

Dholna has all the typical ingredients in place. Cheesy compliments, undying vows against a dhinchak backdrop conveyed earnestly in Sonu Nigam [Images] and Shreya Ghosal's saccharines tones. This one's strictly average. Even so, DJ Whosane gives the romantic duet a bizarre facelift with a tangy touch of hip hop for the Love is in the Air remix. What culminates out of this is too off-tune for it's own good.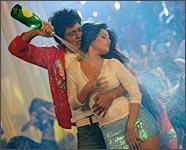 Salim Shehzada, Rehan Khan, Shankar Mahadevan [Images] and Sajid Khan bring the house down in the high-pitched and high-voltage Mast Kalandar. Qawaali in body and filmi in soul, this ditty deserves brownie points for its unconstrained zing and booming intensity.
Time for some gal power, Aussie style via Girl Band featuring Renee Bargh, Patrice Tipoki, Jessica Smith and Renee Armstrong. The stunners coo and careen to the techno heavy sizzler, Heyy Babby with style and spiff. Looking for melody? Scoot! Care for spunk? Stay on board! This one has enough beats to flaunt all your best moves on the dance floor.
Jaane Bhi De is high on Carribean-flavoured beats with its sunny weather and breezy camaraderie. For all its superficial vivacity, the final product is too pale to overlook. For those who care for an encore, there's a Hiphop Hiccup remix. What can I say except maybe 'hic'?
Shankar Ehsaan Loy get back into the trademark mould with the sweet and sentimental, Meri Duniya Tu Hi Re. The three S's -- Sonu, Shaan and Shankar exude smooth tenderness whilst gently humming the best song of this album.
All in all, Heyy Babyy is a peppy soundtrack and in tune with its colourful visuals and comic plot.
Rediff Rating:

Want to see this movie? Check out Rediff Movie Tickets!