July 18, 2007 14:50 IST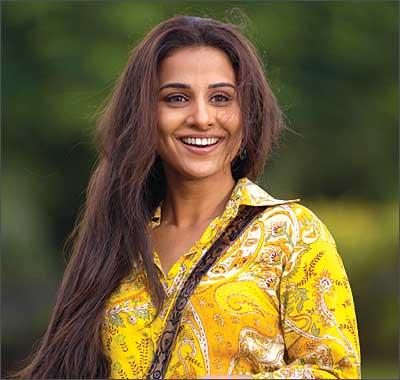 We asked readers to tell us if they had grown up or studied with movie or television celebrities. And we got a great response!

Sharing his experiences is Arijit Basu who went to the same college as Vidya Balan [Images].

Also read:

I studied with Mallika Sherawat

Over to Arijit:

I went to St Xavier's College, Mumbai. I was studying Science, and she was in the Arts section. We had mutual friends and travelled by the same harbour line (train service) to college.

A funny incident that happened with Vidya was when I first met her on the train. A friend introduced us and soon, Vidya and I got chatting in the first class compartment. She said her family had moved to India recently from Iraq. She gave me this real 'dardbhari kahani' (sad tale) of how they had lost everything in the war and had to cross several countries' borders on a rough ride home. She even shed a tear.

At the time, she had had an accident and her hand was in a cast. I was overcome by sympathy for her. Soon, when we got off, I told her if she ever needed help, I'd do my best.

Later, I learnt that she was an actress, and in the television serial, Hum Paanch. The next time I met her in the train, I told her she was a great actress for having pulled the wool over my eyes so effectively! We had a good laugh.

Vidya would be dressed in very stylish salwar kameezes, as opposed to her tank top clad friends. She also had plenty of cool bindis. I think she was trying to rock the Shanti (Mandira Bedi's [Images] popular telly soap) look. She was active in the college festival, Malhar, and took part in college plays. I always think she is more beautiful in person that when I saw her in Lage Raho Munnabhai [Images].

The last time we met was in a dubbing studio in Bandra, a Mumbai suburb, where I was recording an ad jingle for a client. We chatted and she said she was dubbing for a film in which she was starring. I asked her the name and she said Parineeta. I asked her if it was about a fairy called Neeta. Her look was something to see! :)

Soon, I left for further studies in the US. One day, I read on rediff.com that a funnily-named movie was a big success back home. The movie starred Saif Ali Khan [Images], Sanjay Dutt [Images] and a newcomer called Vidya. Vidya Balan -- the girl who had pranked me on a local train -- had become a star. I remembered the incident and smiled. She was designed to be a fine actress.

Grew up with a star in the same neighbourhood? Studied with them in school? Had a star friend in college? Hung out at the canteen together? Bunked classes? Maybe even hit on the same pretty people?

What were they like? What did you think of them then? Did you ever foresee their success?

We look forward to hearing from you!