Home > Movies > Reviews

Don't Cash in to this music

Georgina Umdor | July 17, 2007 13:11 IST



Anubhav Sinha's Cash promises to be another stylized film on the lines of the Dhoom movies, if the promos are anything to go by. It even has a daring heist by a bunch of crooks. Expect a lot of stunts and fast cars with this one.

And the cast -- Ajay Devgan [Images], Ritesh Deshmukh, Zayed Khan [Images], Esha Deol [Images], Shamita Shetty [Images] and Dia Mirza -- sure make the film look very uber cool.

Judging by the soundtrack by music directors Vishal Dadlani and Shekhar Ravjiani, the film is all about being young and daring or more aptly, bindaas.

Cash has 20 minutes of animation

The album kicks off with the title track, Cash, which sounds very similar to the Black Eyed Peas opening beats in Pump It. The track has fast foot-tapping music to the lyrics of Vishal, and is rendered by Sunidhi Chauhan, Vishal and Shekhar. It will be a sure hit on the dance floor. This also has a remix version.

Next up is Mind Blowing Mahia by Sunidhi. Don't be fooled by the title, the song is anything but mindblowing.

Naa Puchho has the same beats as the popular Daddy Yankee song, Gasolina. Vishal joins Sunidhi for this one.

Want to know what a cross between the old pop band Modern Talking and Sean Paul sounds like? Listen to Rahem Kare, and you would know. This mish mash of rap and techno-trance has lyrics by Panchhi Jalonvi, and is sung by Sunidhi and Vishal.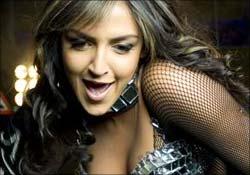 Following this, we have Anushka Manchanda singing Naughty Naughty. The bhangra sounding dance number is different from the others, and is an average number.
Which brings us to the next number Zara Bach Ke Jee that sounds more like what Ricky Martin [Images] would be singing. Prepare for Latino beats with a lot of English lyrics thrown in for good measure. A real fast number.
If you're looking for romantic tracks, this is not the album for you. Cold hard cash leaves no room for sentiment, and music is just that -- fast, furious and forgettable.
Rediff Rating:

Want to see this movie? Check out Rediff Movie Tickets!