July 16, 2007 13:40 IST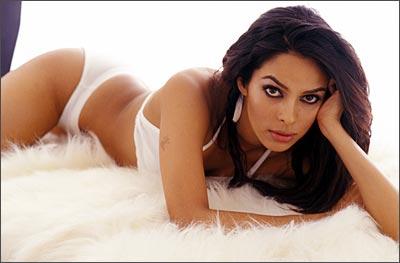 We asked readers to tell us if they had studied with movie or television celebrities. And we got a great response!

Sharing her experiences is Anjali Kapoor, who studied with Mallika Sherawat [Images].

Over to Anjali:

Mallika Sherawat, then Reema Lamba, was in my class at Miranda House (a well known college in Delhi) for three years, when we were studying Philosophy Honours together.

Most of the time she would stand outside college and eat bhelpuri with her friends or stand outside Hansraj College to chat with her friends. She got good marks until the second year but did not appear in one of the papers in third year. She was a down-to-earth person and would never make fun of anyone.

She would mostly wear jeans and T-shirt and a salwar kameez once in a while. Her favourite earrings are still the same -- big hoops.

Unlike her friends, she was a non-smoker.

In the begining of third year, she became an air hostess and wouldn't attend college as much. Once I heard her talking about Sushmita Sen [Images] and Aishwarya Rai [Images]. I didn't know then what was going on in her mind. And she didn't look that bold as much as she does now in the movies.

Had a star friend in college? Studied alongside them in school? Hung out at the canteen together? Bunked classes? Maybe even hit on the same pretty people?

What were they like? What did you think of them then? Did you ever foresee their success?

We look forward to hearing from you!