| | |
| --- | --- |
| Clinton Cerejo | |
| | |
| | |
| | |
| | |
| | |
| | |
Advertisement
July 13, 2007


He's adept at vocal arrangements and background scores in the film industry. Having worked with ace composers like A R Rahman and Shankar-Ehsaan-Loy, Clinton Cerejo has come a long way from his college fest days.

A music enthusiast, the 30-year-old loves programming, production and all that goes into making chartbusters. He makes his presence felt in the hit song, Do you want a partner, in David Dhawan's new film, Partner.

Swati R Chaudhary traces his journey into tinselville and gets you some dope on this budding talent.

You have been credited as Clington in Partner. Do you believe in numerology?

No. That's a typographical error. I don't believe in numerology. I have never had an extra letter to my name. It's always been Clinton Cerejo.

Tell us about yourself.

I am a Commerce graduate from Poddar College, Mumbai. I do vocal arrangements in the film industry. I also sing and compose ad jingles. I've done a host of commercials for Tata Marina and Hutch. I am probably going to score the Pepsi commercial with Adnan Sami.

Usually, I work on the background score and music arrangements in films. But I also program songs for other people. In the last one year, I've been doing less of vocal arrangements and more of programming and production work. The process -- right from the time a song is just a tune and a melody in the composer's head -- till it's out on CD is called production. This is one of the significant aspects of my work.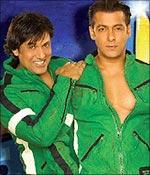 When did you start of? How did music happen?
I was passionate about music but I didn't intend to pursue it seriously. I was gearing up for my MBA studies. I come from an academically-inclined family. My mother is a professor and my dad was an engineer. They were expectedly skeptical about me taking up music as a career. But I didn't see myself in a desk job, fighting my way through traffic every morning.
I participated in college festivals; I'd do a few recordings in college for pocket money. I started singing with Louis Banks (India's premier jazz pianist) and one thing led to another.
Amar Haldipur (ace arranger) -- who is my college friend Siddarth's (of Band of Boys fame) father -- noticed me and said he'd call me for recording some day. So he gave me my first break in a Marathi film titled Mukta. I did an English number in the film. That was my first ever recording and it also won a National award. That was the first time I saw the inside of a studio.
After that, I did sporadic recordings. I started singing a lot for jingles with Ehsaan and Loy. I have been a part of Shankar Mahadevan's [Images] album Nine as a vocal arranger. Then I started working with A R Rahman. When he endorses you, people actually sit up and notice you. Gradually, a lot of doors opened up for me.
Which Bollywood films have you worked on?
I've done a lot of vocal arrangements for A R Rahman in films like Taal [Images], Thakshak, Swades [Images] and a lot of South Indian films. I did the theme song and the Tamil version of O humdum in Alai Payuthey (the Tamil version of Saathiya [Images]).
I worked with Shanker-Ehsaan-Loy in films like Dil Chahta Hai [Images], Kal Ho Naa Ho and Bunty Aur Babli [Images].
I was actively involved with Vishal Bhardwaj on the songs as well as the background score in his film, Omkara [Images]. I did all the arranging and programming along with Hitesh Sonik (music arranger).
I did all the vocal arrangements for the background score with Salim-Suleman in Iqbal.
I sang I wanna spend the rest of my life with you in Neal N Nikki [Images]. I also worked with Ranjit Barot on Aks and Asoka.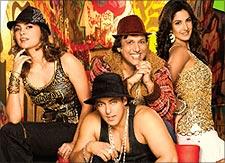 How did David Dhawan's Parnter happen?
I did vocal arrangement on a few songs in Partner. Wajid (of Sajid-Wajid fame) called me up one day and asked me to come over to the studio for recording. 
The lead hook line that Wajid has sung -- Do you want a partner -- was actually supposed to be sung by me. Wajid asked me to sing that line but it didn't materialise. Somehow, it was not working in my voice. It wasn't powerful enough; it was more sophisticated. Wajid was a lot better in that context, so he did it.
How was it hobnobbing with Salman Khan [Images] and Govinda [Images]?
People from the audio department don't necessarily meet people from other departments unless they need to. So I never met them.
But I have met Ajay Devgan [Images] on a few occasions. I'm working on his directorial debut U, Me Aur Hum. So we have not met because he's an actor but because he's directing the film.
Tell us about your association with Sajid-Wajid.
I've known them for a while now. Their sound is very hard-hitting and commercial. It really grabs attention. They always work with hip people. The sounds are very new and edgy.
Anything interesting incidents you recall about Parnter?
Once, I lunched with Sajid and Wajid at the studio. They had brought home-made biryani. Their mother had made some awesome garlic chutney. I asked Wajid when could I expect another sumptuous meal like that. And I'm still waiting.
Tell us about your stint in Omkara.
Omkara was fun because I got a chance to work with Steven Fitzmaurice (sound engineer). It was quite a high working with an engineer of such an international standard. Moreover, I always wanted to work with Vishal Bhardwaj. He's such a wonderful person. He is a reservoir of boundless energy and ideas. He is unusually talented. He has a clear picture of what he wants. He will keep trying until he gets it right. I admire the way all the aspects of audio and video merge perfectly in all his films.
Anyone else you look up to?
I think Shanker-Ehsaan-Loy have done amazingly well. Ehsaan and Loy were always doing jingles and are from a western background while Shankar is so Indian. This collaboration has worked wonders for them.
Any tough times you sailed through?
I was initially just a vocalist in ad jingles. I had started working with Merlyn D'Souza (composer) and Ehsaan and Loy. I was never really cut out to be a jingle singer in that sense. To sing jingles, you need to be really versatile and I wasn't that versatile vocally. I was more into R& B and soul. I was always interested in what was going behind the vocals -- arrangements and production. So I made certain investments -- I got a keyboard and sampler. Yet, I wasn't getting that much work to recover my money. Things were not working out. It was a cyclic phase with several ups and downs.
I started working with Milind and Mukul who were doing small films and remix albums. I took up whatever came my way in terms of production. It was tough; I used to work long hours. Gradually, good things followed.
Any dreams?
My wife Dominique and I plan to make a gospel album. I really want to write gospel music because that's what I do in my spare time.
I'd love to work with international artistes and write songs for them. I think that gives you more recognition and fame. I have many English songs lying with me that will do well if released abroad.
What next?
I am looking forward to the background score of Anurag Kashyap's No Smoking (starring John Abraham [Images] and Ayesha Takia [Images]) and Ajay Devgan's U, Me Aur Hum. I just worked on the score for Chak De India. I may work on Yash Raj's Aaja Nachle and Sanjay Gadhvi's Kidnap.