Home > Movies > Interviews

The Rediff Interview / Ritesh Deshmukh

Everyone works for Cash

July 12, 2007


| | |
| --- | --- |
| Ritesh Deshmukh | |
| | |
| | |
| | |
| | |
| | |
| | |
Ritesh Deshmukh is one of those actors in Bollywood who has given hits consistently, be it Bluffmaster [Images], Malamaal Weekly [Images] or the more recent hit Apna Sapna Money Money [Images].
Now, the actor is all set for an image change from comedy roles to a hard core action one in the upcoming film, Cash, along with Ajay Devgan [Images], Zayed Khan [Images], Esha Deol [Images] and Shamita Shetty [Images].
Narendra Singh caught up with the actor as he spilt the beans on his spiky hair and action stunts.
You have starred in films like Bluffmaster, Malamaal Weekly and Apna Sapna Money Money. Now, it is Cash. What's the fascination with money?
Everyone works for money only. Some people do good work and earn money while others follow a different way but the end remains the same for all -- to earn money.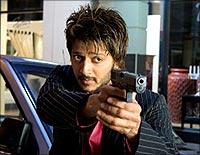 But is this mere co-incidence or something else?
I don't know. Whenever I do a film and people ask for the titles of my film, I invariably end up saying names like Malamaal Weekly, Apna Sapna Money Money and Cash. 
Even one of my forthcoming films, Dhamaal has the same issue. I think I cannot be blamed for all these. You should blame the directors and producers of these films, it is they who are running after money (laughs).
So are you running for cash or diamonds here?
Cash has a diamond heist as well as element of cash in it. It's a two-in-one robbery.
Ajay Devgan is the mastermind and is responsible for bringing together Zayed Khan and me. The film sequences have been shot very well. Zayed has done his stunts in water whereas mine are limited to land. Ajay, on the other hand, has performed his in mid air! And it was Anubhav who decided that everyone in the film should do different things.
You're seen skateboarding in the film...
Yes. I never had a skateboard when I was young. When I was in college, I saw a lot of kids perform cool feats on them. At that time I thought I would never get to use these skateboards. When I was told that I would have to ride a skateboard in the film, I was so excited. It was like I was a kid again and was given a new toy.
Initially, it was bit difficult using the board and I fell so many times while learning. Now, after mastering it, I feel good.
You should also be thankful to Anubhav that he opted for roads of Cape Town rather than those of Mumbai!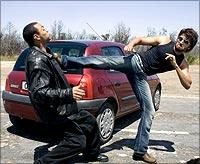 Yes, of course. Thankfully, there was not much traffic on the roads of Cape Town and because of this you can street loch pretty well. Street loch is almost like a skateboard except that it is long and you can almost lay on it horizontal to the ground. You must have seen the shots in the promos.
You sport a very disheveled look in the film. Now that shooting is over are you glad to comb your hair?
You actually mean I sport a weird look in the film (laughs)! Actually, whenever I woke up, my hair ended up looking like arrows and because of the spikes there were holes on the mattress! The hair was so spiky that if I were to head butt anyone, the end result would be bloody!
But it was fun. We took so much liberty with our looks -- Zayed's hair has this bluish tinge while mine is tobacco brown. Ajay has this blondish appearance whereas Shamita's is reddish. We have used all possible colours for the film (laughs).
Is the look of the film inspired from Japanese manga comics?
Yes. But I had told Perry (hairstylist) that the manga look would cost me a lot. If you were to see them in detail, you will find that the cuts of the hair are very similar. You would find thin strands of hair if seen from the back. You could also see layers. Perry has done a brilliant job.
How was it working with Ajay Devgan?
Though Ajay is a very senior actor, he mingles easily with young actors like us. He will never let you feel that he is a senior actor and a superstar. This is a great quality about him.
From action in Cash to changing diapers in Heyy Baby...
Yes, it seems so and it's interesting. I am glad that I am getting opportunity to do different films. The kid is the real star of the film.