Home > Movies > Interviews

The Rediff Interview / Sajid Khan

Three men, a baby and 20 actresses!

July 10, 2007


| | |
| --- | --- |
| Sajid Khan | |
| | |
| | |
| | |
| | |
| | |
| | |
Though he made his acting debut in Hrishikesh Mukherjee's last film Jhooth Bole Kauwa Kaate, and hosted several television shows, Sajid Khan's real interest was always direction.
Now, Farah Khan's [Images] brother will direct his full-length feature film, Heyy! Baby, starring Akshay Kumar [Images], Fardeen Khan [Images], Ritesh Deshmukh and Vidya Balan [Images].
This, however, is not his first try at direction. He had directed one of the stories in Darna Zaroori Hai [Images] (it was the first story starring the brilliant Manoj Pahwa).
Here, Sajid talks to Narendran Singh about his film and much more.
What made you turn to direction?
I have always been a director at heart. Though other directors directed every shot I have done for television, I always had my own inputs, solicited or otherwise.
How do you describe your first baby, Heyy Baby?
Heyy Baby is a modern yet very traditionally Indian film -- you can watch it with your entire family. It deals with single parenthood and will appeal to both, the young and old. Youngsters will like the modern sexuality and women, the single parenthood part of it.
The germ of the idea came to me from my friends who are robustic guys when it comes to women, and who have not changed even after marriage. But the moment the male actors in the film get a baby girl in their life, their whole perception towards women changes. Though the film is a comedy, it also makes you think.
Most of the people associated with the film are married and barring Akshay Kumar, none of them have kids. How difficult was it for them to relate to a baby film?
We actually had four doctors on board to help teach the cast about babies -- changing diapers, dealing with a crying baby etc.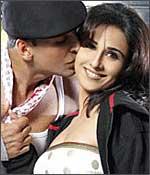 That means you guys literally had a rocking time during the shooting?
Actually, we got photographs of Fardeen looking very uncomfortable with the baby. We used to plonk the baby with the actors. And unless you spend time with them (babies), they won't bond with you. And that's precisely what happened.
We started working with the baby when she was seven months old and over the course of two months of shooting, she became familiar with the cas -- though whenever we would switch on the lights, she would start crying. She also started teething, which made her cry. So in a way, it was difficult.
Which means Sajid Khan is all for fatherhood?
I love kids but am not ready for fatherhood yet. Somewhere at heart I am a kid; I have not grown, really.
What is Vidya Balan doing in this male centric movie?
Vidya's role is the opposite to what you have seen her do in earlier films. I would go on record and say that this has been her most challenging role ever. I like the challenge of making people do things which seem unthinkable.
How difficult was it to manage 20 actresses for a song in your film?
It was not difficult, though co-ordinating them initially was. All them are my friends. I just called them up and they agreed to be there for the song. Farah choreographed the song.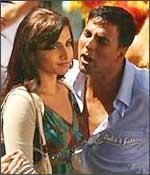 Did Farah give you any tips?
We have never ever interfered in each other's work. In fact, most of the time, I have to call her friends to find out what she is doing and where she is.
Farah did see my film and was shocked that I could make such a film.
An Australian band will be singing in your film.
Yes, it was a tie up with them. They are known as the Australian Spice Girls [Images]. The song is both in English and Hindi. But the song will not be there in the film; it will feature in the album only.
What about rumours of SRK's [Images] special appearance?
Just wait and see.