Home > Movies > Interviews

The Rediff Interview / Himesh Reshammiya

'I will reveal why I wear a cap'

July 04, 2007



Himesh Reshammiya is on cloud nine.

After K L Saigal and Kishore Kumar, Himesh has become the only singer who has become a hit at the box office.

Over the years, many singers tried to become actors, but most failed miserably with audiences rejecting them outright.

Meanwhile, Himesh's Aap Kaa Surroor: The Movie: The Real Luv Story has had the year's biggest box office opening -- matching, in some centers, last year's biggest hits Dhoom 2 [Images] and Krrish [Images].

Himesh has managed to create a cult fan following over the last two years, and it is his fans who have made the difference to AKS's box office fate.

When Chief Correspondent Syed Firdaus Ashraf caught up with Himesh, he was all praise for his fans, saying they are the ones who made him what he is today.

In the interview, Himesh speaks about his future plans, the sequel and his success, Excerpts:

Did you ever expect your film Aap Ka Surroor to become such a big hit?

I was just praying that it becomes a hit. It was my Mother's (Madhu Reshammiya) birthday on (the release date) June 29, and I had immense faith in my fans. They are the reason behind the success story of Himesh Reshammiya.

When you look back what you think worked for the film?

I think the blessings of God and my mother have helped the film to become a success. I always believe that it is destiny and divine intervention that are with me. It has been proved that it was God's destiny. The film got the biggest opening of 2007, and it has sustained at the box office this week. I am a new hero, and it is my debut film. It is just unprecedented in film history.

What is the best compliment you got for the film so far?

The best compliment I got was that while critics didn't agree to it, my fans said that I am a better actor than a music director and a singer. This is the best compliment I got, and I was shocked.

Do you believe yourself that you are a better actor than music director or singer?

I do everything from my heart. I cannot compare what I am better in. I cannot judge that.

Were you hurt when critics slammed your acting attempt?

I will say critics have the right to say what they want. They did not even spared a great film like Sholay [Images] and Hum Aapke Hai Kaun. So, I am not at all shocked at critics ripping my film. One percent of people are always against me -- as I have always mentioned -- but 99 percent people are always with me. Inshallah, (by the grace of God) I will win that one percent over too, one day.

Didn't you feel you needed to loosen up, as you were too stiff as an actor?

I will try to rectify if some critics feel, but my fans have loved me. It is the same way like my songs. Critics said I am nasal, but my fans made me hit. So I will not stop singing if critics don't like me.

Don't you get bothered about critics?

I will not say I was not bothered. A critic's review does matter, but you know finally it is a critical review while on the other hand, the film had a commercial success. If you see my first video song Aashiq Banaya Aapne, I won the award but critics said I was nasal. When I composed music for Banaras, critics appreciated the music but unfortunately it did not do well commercially.

Do you believe that you have become hero of masses and not of classes?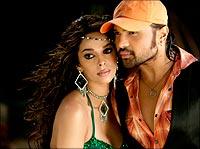 The opening in multiplexes too was big. I wouldn't agree to that statement.
What is the craziest thing that your fans have done?
In every show, youngsters have gone together and worn caps, in a group. This gesture touched me.
Do you believe you have cultivated a massive fan-base which has led to the film being a hit, like Rajnikanth [Images] for Sivaji?
I think nobody can come close to Rajnikanth, but I will say that the fan-base has made Aap Ka Surroor a hit. I am grateful to my fans.
In your film, you were serious because of the unfortunate death of your brother due to brain haemorrhage. But I'm sure your fans are dying to know the secret of the cap: why do you wear the cap all the time?
You will get the answer in my sequel to Aap Ka Surroor. I will reveal to the audience why I wear a cap in the film in the sequel. 
Are other producers approaching you to act in their film?
Yes they are, but it is too early to talk about it.
Do you think you will be isolated in the industry by becoming a hero?
I am not competing with anybody in the industry. So this question does not arise.
Is everything okay with Salman Khan [Images]? It is rumoured that you have fallen out with your mentor.
No it is not true. Salmanbhai blessed me when I met him some 45 days ago. I met him in Nagpur, and he is supporting me with his whole heart.
Why didn't you score music to his latest film Partner with Govinda [Images]?
I stopped making music long back. I quit music for 16 films. Namastey London [Images] and Red were my last projects.
So you won't score music even if Karan Johar [Images] offers you a film?
I am a huge fan of Yash Chopra [Images], Karan Johar, Farah Khan, Sooraj Barjatiya or Sanjay Leela Bhansali or Aditya Chopra [Images]. They are great legends. I would never say no to them if they offer me work. That is, if at all, they offer me work.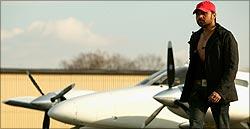 What happens to your career as music director and singer?
My whole career graph has turned now. I have become very exclusive. I will be doing only three films a year.
Don't you think that you will distance yourself from fans if you remain out of circulation for long?
No, I don't think so. Three films means 18 songs. I will be doing a complete package of acting, music and singing.
If your album comes after six months don't you think you will fade from memories of your fans?
No, I don't think so. You see, Red film came after five months. I did my last album in September 2006, and after five months Red came and it still became a hit.
Do you think there is a certain lobby that is working against you?
I don't think so, but I feel that this is the first time in the industry, a serial producer turned music director and singer became a hero. If someone follows my footsteps, then that person will be accepted immediately. 
Where do you see yourself five years from now?
I want to do good quality work. I want to be in touch with my fans.