Home > Movies > Columns

Water down the drain

Suparn Verma | January 29, 2007 14:52 IST

The last time I met Deepa Mehta was in 2000, when she was fighting an impossible battle.

She was shooting for Water; her crew was parked in a hotel in Varanasi, a bald Shabana Azmi and Nandita Das would go to the shoot only to return without a single shot being canned.

As a journalist this, for me, was awesome stuff. A harrowed director, a frustrated producer, actors and technicians willing to talk about the passion they had for the film, which they weren't being allowed to shoot.

Why? What was the film about?

It was set in Varanasi, showing the plight of young widows forced to lead ascetic lives, misused by some priests for their passion, brides as young as 10 years old married off to dying 70-year-old men. The script examined how widows were sometimes turned into prostitutes.

According to the various local and national religiously and morally upright parties opposed to the film, this story would destroy the image of Varanasi and the country. So they stopped the shooting and held protests. One man even tried to commit 'suicide'. My meeting with the district magistrate was illuminating, especially after I spoke to Deepa Mehta after his interview.

My day would begin in the hotel lounge where the crew would collect. The day I arrived I caught up with Anurag Kashyap (now better known as the director of Black Friday), who had come to Varanasi for a day. I interviewed him as he had translated the English dialogues into Hindi. Next, I interviewed Nandita Das. She is a lady who one can fall in love within 10 minutes of a conversation.

I arrived in Varanasi on February 3 when Mehta was trying to start shooting. On February 5, the shooting was allowed once again, and everyone was jubilant. On February 7, the shooting was stopped again. On February 9, the shooting was stopped permanently.

Photograph, right below: Deepa Mehta (right) eventually made Water with Lisa Ray (left), John Abraham and Seema Biswas.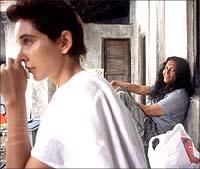 I met a gentleman called Shyamdeo Ramchaudhary, a BJP politician. Men like him had stopped the shooting of Water. A man who believed that homosexuality is a sin and that it did not exist in our country. A sample from the interview:
Are our religion and culture so weak that a film can shake it up?
It is not weak, it is very old and tolerant. But in the name of tolerance, we can't let anyone do whatever he wants.
So you state that there has been no incident of widows being exploited from 1930 till date?
See, like I said before, widows are revered in our society. Every family must have suffered a loss in the family, but to show that child widows come here to sell their bodies, to show that ashrams were created to exploit widows -- that is what we object to. This is not our culture.
The film doesn't show that. As to the aspect you talk about, only one girl has such a problem in the movie, the other widows are unaffected.
It may be only one girl but the story has been made on Kashi and Kashi has been represented in such a way that in that period, the widows and child widows who came here were prostituted. People come to Kashi to attain nirvana, to learn the Vedas and evolve as human beings. Another film is also being shot here and no one has any objection to that.
***
The other film being shot in Varanasi was Bas Itna Sa Khwab Hai. As Abhishek Bachchan danced on the ghats, all of Varanasi, it seemed, had turned up to see Amitabh Bachchan's son. No one was interested in Water, which was being shot on 'that ghat' and yet our moralistic leaders had problems.
Over the course of the week, I would interact with Mehta, her crew, her actors. After some days, they were tired of giving sound bytes, tired of fighting, tired of waiting, tired of hoping to fulfill a creative dream of telling a story.
Eventually, the custodians of Indian morality won. We, the supposed intelligentsia, could do nothing.
Mehta's eyes would look haunted just like Anurag's eyes did as he battled the last six years to get his films (Paanch and Black Friday) released. Imagine carrying a baby for nine months and not being able to deliver it, knowing it is going to die if you don't. That is how it feels once you set out to make a film and don't end up putting it on the silver screen. Like watching your child die.
While in Varanasi, I spoke to locals who couldn't care less about the controversy. I even paid to meet a prostitute, who was a widow. She was 65. Her daughter and grand-daughter were in the trade too. At that time, her grand-daughter's virginity was being auctioned. I sat in a dark one room jhuggi with a hard sand crusted floor on a folded mattress as the woman, and her daughter told me their story.
I never wrote the story because at the end of our conversation, the daughter said, 'You may not have had sex with us, but you still paid for our story.'
That was the day I lost interest in journalism. I am admitting this for the first time. My late father was a journalist, my mother is a journalist and so is my younger sister. It is a noble profession. But that day, I saw myself as an emotional cannibal.
It has been seven years since I traveled to Varanasi.
Today, I am a filmmaker.
Today, Water has released, and has been nominated for the Oscars.
Today, Varanasi, it appears, is still the same.
Today, Shyamdeo Ramchaudhary and his comrades must be eating humble pie.
Suparn Verma is a former journalist at rediff.com He has directed Ek Khiladi Ek Haseena, and written scripts for Qayamat, Zameen and Jaanasheen.