| | |
| --- | --- |
| Shekar dubs for SRK in Tamil KBC | |
| | |
| | |
| | |
| | |
| | |
| | |
Advertisement
January 25, 2007 16:45 IST
Last Updated: January 25, 2007 18:51 IST


Shah Rukh Khan seems to speak in the mothertongue of his Kaun Banega Crorepati contestants quite well. But when you switch on the popular gameshow on Vijay TV, it's not SRK's voice you're listening to. It is 28-year-old Shekar's.

Shekar does it all SRK-style -- stutters, stammers and shivers in Tamil -- exactly as SRK does in the Hindi version.

But Shekar says, in his career as a dubbing artist, imitating SRK has been one of the toughest jobs he has done so far.

Coming from a family of theatre and film artistes (Shekar's father, the late K P Rudrapathy was a theatre artist and his uncle A P Nagarajan has directed memorable films like Thillana Mohanambal, Navarathri and Thiruvilayadal), it was natural for Shekar to start a career in acting.

But it was P C Sreeram who recognised the talent in his voice when he was just a child. That's when Shekar started dubbing for other child artistes.

The first assignment as an adult dubbing artiste was for Ajith for his second film, Pavithra. "Ajith sat next to me and watched me dub," he says. "I didn't know then that one day he would be the 'Ultimate Star'. Later, I dubbed for Abbas, Tarun, Vineet, Shaam and Richard."

Shekar has also been writing Tamil dialogues for Warner Brothers' animated movies, besides scripting a 100 dubbed films for Vijay TV and another 50 for others.

The first Bollywood actor for whom he dubbed (in Tamil) was Aamir Khan for Rangeela. "Dubbing for Aamir was easy because I speak like him," Shekar says.

KBC is not Shekar's first dubbing assignment for SRK. Earlier, he dubbed for him in Swades, which was called Desam in Tamil.

"I was acting in my first film as a hero when the writer of Desam, Bharani told me there was a voice test for Shah Rukh. I listened to SRK's voice for an hour and found it difficult to catch his pace and delivery. But I did a test dubbing for him. My voice was sent to (director) Ashutosh Gowarikar and his team. Soon, I got a letter from Gowarikar saying that he was happy with my voice.

At the music launch, A R Rahman said this is the best voice of Shah Rukh. What better compliment can I get after struggling for six whole days for Desam?" Shekar asks.

The KBC offer came from Seventh Channel, which also did the dubbing work for the show when it was hosted by AMitabh Bachchan.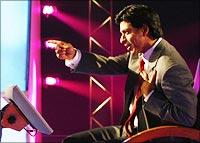 "I was thrilled (when I got the offer)," Shekar says. "I was told to keep myself free for the next six months. I said I would drop everything else and lend my voice for Shah Rukh only because he is the King Khan."
These days, Shekar sleeps only six or seven hours a day. "Even when I close my eyes, I see only Shah Rukh in front of me saying, come on, get up. There is work to do!" he exclaims.
Shekar still cannot forget the first day of dubbing. There were many people around him offering suggestions that really helped. It took 16 hours for Shekar to dub the first episode. It came down to half that time for the next episode. For the third, it took him six hours.
Special Section: All things KBC
"The first episode was tough because I had to match Shah Rukh's speed. While scripting itself, I have started planning how to dub. Because I am very fluent in Tamil and I know Sanskrit, it is not that difficult to keep pace with his delivery. I am talking like Shah Rukh now," he says.
Unfortunately, Shekar could not watch the first KBC episode as he was busy with dubbing for the second one. Soon after, his phone has not stopped ringing, as congratulatory calls kept pouring in. 
The biggest compliment came from his mother. "She hugged me and said, I can't believe you are speaking so fast!' My mother has seen only the quiet me and there on television, I was continuously talking! She was very happy," he says.
Now, he thinks he's 'going mad'. His conversation with his mother goes like this: "Amma, what is there for dinner today? A. Samabar B. Rasam C Thayir Saatham.'
Though he has given his voice to many heroes, Shekar says this is the first time that he has been recognised for his voice. "I have to thank Shah Rukh for that. Nobody knew I had dubbed for Abbas or Ajith or Vineeth. Now, everyone knows I am Shah Rukh's voice," he beams.
Is Shah Rukh his favourite hero? "One of my favourites. My favourites are Kamal Haasan and Sivaji Ganesan."
Now, all he wants is a call from Shah Rukh Khan. "I hope he calls me. I really want to talk to him and tell him that I'm his Tamil voice."
Shekar's photograph: Sreeram Selvaraj