Home > Movies > Bollywood News

From Kuch Kuch Hota Hai to Parzania

Patcy N | January 25, 2007 15:10 IST


| | |
| --- | --- |
| A still from Parzania | |
| | |
| | |
| | |
| | |
| | |
| | |
We first saw Parzaan Dastur in a commercial about Dhara oil, where he wanted to leave home because his family did not love him.
But we fell in love with him when he played the silent Sikh boy in Karan Johar's Kuch Kuch Hota Hai.
Today, Parzaan looks very different from his KKHH days, when he was seven years old. Now aged 15, Parzaan will be seen in this Friday's release, Parzania.
Parzaan got his first ad because of an aunt, who knew some people in the advertising field. She recommended his name and that's how he bagged his first ad for Dhara. Then aged four, he started his 'career' of appearing in movies and lending his voice in ads.
Review: Parzania is a wake-up call
KKHH was his first film, but there was no need to audition for the boy. He was dressed up like a Sikh and was asked to interact with his parents while his pictures were being clicked. Next, he landed the role in the Shah Rukh Khan-Kajol starrer.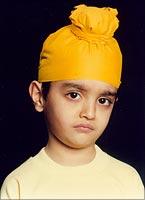 Ask him about working with SRK and Parzaan says, "It was a wonderful experience. He was very kind. Kajol was very friendly. They would play with us between shots. I did not have any scenes with Salman Khan, so I did not get a chance to interact with him. But I clicked pictures with him."
Shah Rukh, incidentally, happens to be Parzaan's favourite star.
"We shot for about 20 days," Parzaan adds. "We were in a cordoned area and there were many indoor and outdoor games for children. We could roam around and play whenever we were not shooting. This was done for the children, as we were all far away from home, in Ooty."
Parzaan worked with Parzania director Rahul Dholakia for the first time in Kehtaa Hai Dil Baar Baar. So the comfort level for Parzania was established because the two knew each other very well.
"Even when I made mistakes, he would correct me nicely," he says.
 'None of us have a political agenda'
So was it coincidence that Parzaan's name matched the film title so well? "I was very happy to know that the movie is based on my real name!" He exclaims. "I was really excited, as the story is also very different from what I have done before. It is based on a real life incident."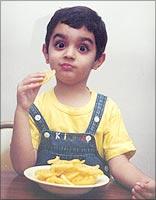 Talking about the film, he says, "Even though Parzania is serious, I don't have many serious scenes. Most of the seriousness comes after my role is over. I play a 10-year-old boy, who is very happy. Suddenly when the riots break, my parents (Naseeruddin Shah and Sarika) lose me. Then, they begin their search for me."
"There are some riot scenes in which I am involved. But those scenes were not traumatising," Parzaan continues. "I was running between violence, fire and riots, but I could cope with the scenes."
"Working with great actors like Naseeruddin and Sarika was excellent. You can learn a lot from them. They inspire you to do better. They treated me like their son off camera as well."
Special: Om Puri saves Parzania
Naseer would also help him when he made mistakes. He would guide him on how to do a scene.
The riot scenes were the most difficult for him, as he had to run barefoot through fires. "When I was told I had to run across fire, I thought they were kidding. Then, I realised that I actually had to do it, and I got scared. I was just 12 years old then. But it went well. Only, I injured my toe very badly during a stampede scene."
While actors are usually nervous about their Friday releases, Parzaan feels nervousness of a different kind. "My board exams are coming up, and I am very tensed. But I want this film to do well as everyone has put in a lot of effort," he says.
So will he become an actor when he grows up? "I am learning to play the piano now. I have given some exams from Trinity College. Someday, I will become a music composer," he signs off.