Home > Movies > Reviews

Traffic Signal has boring music

Sukanya Verma | January 24, 2007 17:38 IST

After profiling seedy bars (in Chandni Bar), scheming politics (Satta), high society parties (Page 3) and the business circus (Corporate), Madhur Bhandarkar now eyes the Traffic Signal.  

With an eclectic cast of Kunal Khemu, Konkona Sen Sharma, Neetu Chandra, Ranvir Shorey, the drama is about the criminal underbelly that thrives on the streets of Mumbai.

Music director Shamir Tandon, who worked with Bhandarkar on Page 3 and Corporate, strikes again.

The soundtrack begins with a thematic piece by Raju Singh, titled The Spirit of Traffic Signal. Here's what happens. Instead of sounding sinister and thrilling, it starts out as a lame inspiration of A R Rahman's zesty instrumental, Spirit of Rangeela and then breaks into a jarring jig of electronic instruments.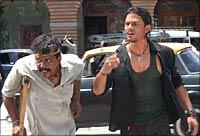 Lazily rendered by Hariharan and Sangeet Haldipur and indifferently composed, Yeh zindagi hai to kya zindagi hai tries to adopt the abstract way. Now that's a genre director-composer Vishal Bhardwaj is a master of, but Tandon doesn't quite get it right. Another version of the song in the voice of Bhupinder (good to hear him) doesn't lift the essentially dull ditty. 

Obviously, Tandon begs to differ. He tries to go for the tangent yet again with Na jis din teri meri baat hoti hai. The results are fairly decent the second time round. Playback singers Kunal Ganjawala and Yogita Pathak take on a rather difficult melody with applause-worthy precision.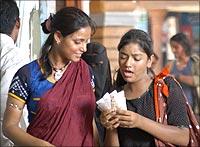 Aai ga is a street dance number interspersed with koli geet elements. Vaishali Samant and Bhavika play to the gallery oozing adequate oomph and pizzazz. Even so, Aai ga or its remix (by DJ Amelon and Salil Amrute) is not stuff chartbusters are made of.

Roadside slang and fact sheet is projected through the philosophy and population of the loudly staged, Signal pe. Clearly, a visual track full of gregarious vocal performances by Vinod Rathod, Baba Sehgal, Neerja Pandit, Raj Pandit and Navin Prabhakar.

Apart from the original soundtrack, the album also contains bonus non-film songs from Jagjit Singh, Kailash Kher, Nusrat Fateh Ali Khan, Ustad Sultan Khan and Chitra.

And that's what I call a classy consolation for an otherwise lame compilation.

Rediff Rating:

Want to see this movie? Check out Rediff Movie Tickets!